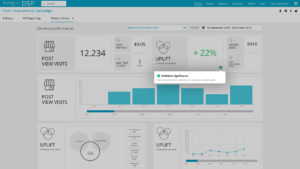 S4M, a leading drive-to-store platform, announced the release of a pioneering global product feature, Uplift Trust, for its FUSIO by S4M platform. FUSIO by S4M is the first SaaS solution to optimise media investments in real-time for drive-to-store campaigns. The Uplift Trust feature is an industry first, allowing marketers to see if the in-store uplift rate of their campaign is statistically reliable.
The new indicator informs clients if there has been enough data generated by their digital advertising campaign to compute a relevant uplift rate, or if more people need to be reached in order to collect a sample significant enough to prove a trend. This is all done during the campaign, allowing marketers to adjust campaign parameters to gain better results.
The uplift rate of a campaign is a key figure that represents the increase of visitors in a physical store of an advertiser due exclusively to an advertising campaign, proving the campaign's real impact. This proof that the uplift rate is statistically sound gives marketers further confidence in the efficacy of their digital advertising.
The uplift methodology is determined by comparing the total number of visits by the control group, or the non-exposed visitors, to those that were exposed to at least one of the ads and seen in-store post-view. If a marketer changes targeting capabilities during their campaign, the control group is dynamically optimized in real-time to ensure the comparison remains accurate and consistent.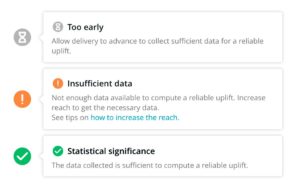 Uplift rates are calculated using scientific methods to remove biases and provide objective insights but numbers may be statistically unreliable if the data gathered is only representative of a small sample of the population that could be potentially reached. A reliable trend is needed to prove that a drive-to-store campaign has actually brought more people into stores. S4M now provides this to marketers through Uplift Trust.
"At S4M we are committed to providing brand advertisers and media agencies with full transparency into all stages of their digital advertising campaigns," Christophe Collet, CEO, S4M. "As the first in the industry to implement live uplift calculations within a digital platform, we are proud to now go one step further to offer transparency into uplift accuracy for drive-to-store campaigns with Uplift Trust."
Source: S4M