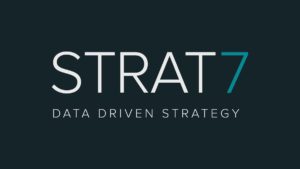 Specialist data and analytics agencies ResearchBods, Bonamy Finch and LiFE have partnered to create STRAT7 – a new group that will help businesses and brands extract compelling new customer insights and interpret them to create powerful 'data driven' strategies.
The new group answers a growing need among businesses: how to make smarter, better-informed strategic decisions in increasingly compressed timeframes.
STRAT7 combines three powerful inter-connected streams of expertise and is able to support clients throughout the data journey – from data origination through to insight & analytics and to strategy development.
Customer data and intelligence
ResearchBods bring expertise through collecting and developing customer data and intelligence using their proprietary software to tap into multiple data streams, giving a 360-degree view of customers.
Advanced enrichment and analytics
LiFE is expert at data enrichment, utilising a unique consumer pool, global data, advanced analytics, machine learning and artificial intelligence (AI) to achieve a deeper understanding.
Strategic interpretation
Bonamy Finch is a specialist consultancy that helps organisations extract data-driven insights, providing a blend of analytics, insights and research to inform better business decisions.
STRAT7 will be led by CEO Barrie Brien, who has extensive experience advising businesses on their growth strategies at Board level. He will work with the management team of Jonathan Clough and Robin Hilton at ResearchBods, Leigh Morris and Paul Carney at Bonamy Finch, and Michael Fisher at LiFE.
The group is backed by private equity firm Horizon Capital, whose support will pave the way for the future acquisitive and organic growth of STRAT7.
STRAT7 has offices in London, Leeds, and Surrey, and is retained by a number of global brands including ASDA, Coca-Cola, Disney, Electrolux, ITV, O2, Pernod Ricard and TUI.
Barrie Brien, CEO, STRAT7 comments: "Data is the key to making better-informed strategic decisions. But in a world where always-on customers produce vast amounts of data 24 hours a day, 7 days a week, it is becoming challenging for organisations to harness information at scale – let alone apply these insights to increasingly complex businesses at speed. That's why we've created STRAT7. We saw an opportunity to bring together best in class specialisms that span the range of data services to help organisations deliver data for decision making. I'm delighted to be leading the new group and I look forward to helping build our capabilities even further to meet the evolving needs of our clients".
Source: STRAT7