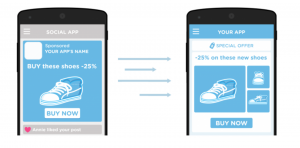 Mobile app advertising company, Jampp, is tapping into the mCommerce opportunity and has just launched a new solution that lets retailers and businesses promote their entire product catalogue across their consumers' mobile devices. Jampp Dynamic Product Ads are aimed at businesses wanting to engage their app users at the most critical point in the app cycle – shortly after app install.
Showing relevant ads during critical phases in a consumer's journey is ultimately what can help drive sales.
Using DPAs, Jampp can pull product information from a retailer's feed, such as product images and names as well as IDs to auto-feature this content in the ads. This means that ad creatives are dynamic and changing based on visitor behaviour.
Say a customer is trying to buy a pair of jeans. Jampp helps to find the mobile users that have shown intent to purchase jeans. It then automates ad creation using a client's product feed in real-time. Relevant ads are shown to select users in-app. If s/he clicks on the ad, the user is then directed to the relevant page in the app. If s/he purchases the product, ads are automatically turned off and complementary products are featured instead.
How it works

Netshoes which has tested the new DPAs has found its traffic and revenue increased ever since.
Similarly, Foodpanda spoke of higher CTRs as well as engagement rates upon using DPAs.
Given the $142bn opportunity the mCommerce market represents, mobile retailers should refocus their efforts to ensure they are reaching the right audiences at the perfect time.
Source: Moby Affiliates