Receptiv, a leading video advertising platform delivering high performing brand experiences across premium mobile environments, announced the launch of Reveal — a new mobile web out-stream product deployed across over 40 key mobile publishers. Reveal is the industry's first out-stream video product built specifically to comply with the IAB's LEAN (Light, Encrypted, Ad choice supported, and Non-invasive) principles and the Coalition for Better Ads' initial standards.
"The genesis for Reveal came from a brand's need for scalable premium mobile video coupled with publishers lacking the right solutions to meet that brand demand." said JT White, VP of Product Innovation of Receptiv. "We wanted to take our in-app, human focused formats to the mobile web environment – creating a real opportunity for brands to engage their users and create interactions with them in real-time. Reveal is an extremely sophisticated mobile web video product that allows a brand to become part of the conversation rather than disrupting it."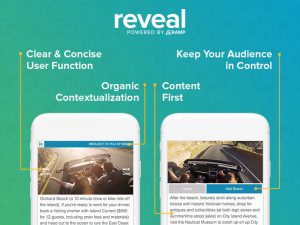 Reveal empowers publishers to create scalable video inventory without sacrificing the user experience. The mobile-first video product features include:
Clear & Concise User Function: Swipe functionality allows users to interact with the video or to continue to engage with content.
Organic Contextualization: Native assets and context from the publisher are dynamically inserted into the proprietary ad container for increased user receptivity.
Exclusive Closed Captioning: Reveal offers closed captioning in delivering an effective brand message while maintaining a positive user experience.
Industry Compliant: Ads do not interrupt, distract or clutter; in accordance with IAB's LEAN and Coalition for Better Ads principle.
3rd Party Validation Partners: IAS, MOAT, DoubleVerify, Nielsen DAR, comScore, TAG certified.
"At Curiosity, about 90% of our audience is on mobile and we want to maintain the user experience while creating new video supply," said Lisa Weinstein, CEO of Curiosity.com. "With Receptiv's new video format Reveal and its adherence to the Coalition for Better Ad standards, we feel confident that our user experience is being put first."
Reveal's closed beta period included a premium group of content and audience specific publishers including Curiosity, Active and Thought Catalog. Due to overwhelming demand from brands, Receptiv is currently accepting more publishers following a closed beta period.
Source: Receptiv