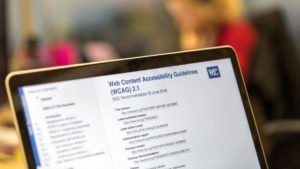 With just two weeks to go until the UK government implements a new digital accessibility law, many public sector bodies could still be unprepared for the change, warns a specialist design company.
The new government legislation is set to come into effect on 23rd September 2019. It will require all public sector websites and apps to meet certain accessibility standards. The aim of this is for digital platforms to be inclusive to all users – including those with disabilities.
This means that platforms will need to be compatible with screen readers and speech recognition software, and be usable by people with visual, auditory, cognitive or motor impairments.Existing websites will have until 2020 to fully comply with these new guidelines. 
However, leading digital design agency, Sigma, has warned that public sector bodies may be falling behind when it comes to preparedness for the new legislation.
Hilary Stephenson, managing director of, Sigma, said: "Maximising accessibility in the public sector is a crucial way to ensure that millions of people with ranging abilities can have the same experiences and opportunities as everyone else. We're only a year away from the deadline, so responsible public organisations should be acting now to ensure that their services are available to everyone – rather than leaving adjustments to the last minute."
How can the public sector put this into practice and ensure it is regulation-ready?
Public sector websites and apps must meet relevant accessibility standards as outlined in the Web Content Accessibility Guidelines (WCAG 2.1.)
Making a website "accessible" doesn't have to mean expensive adaptions or adding extra elements that are only beneficial to certain users. Having an accessible website will benefit and improve the experience of all users and there are some basic standards that can be met quite easily.
Addressing basic accessibility issues:
Use alternative text for all descriptive images and other text equivalents for other non-text elements: Don't forget some users will not be able to see images (whether they're visually impaired, colour blind or low sighted) and the alt attribute gives a description of the image so these users can get an understanding of what the image is.
The site uses relative units not absolute units for text size: Having informative text on a website isn't much use if some users can't read it because the font is too small. Using relative units lets the user alter the size of the text (but don't forget to make it obvious how to do this).
No layout breaks if font size is increased: Failing to solve this problem can result in a change of page layout if the user increases the size of the text. This not only makes a website unattractive and appear unprofessional, it also means the user might struggle to find the information once it's moved. Ensure the website is capable of maintaining its layout no matter the font size.
The site uses visible skip links: These internal page links aid navigation around a web page. However, they are usually only visible for users with a screen reader, as other users can easily skip over information. Making these links visible will make it easier for users without a screen reader to find them and navigate the website.
There is the ability to tab around the content using keyboard navigation only: This is one of the most important accessibility features for any website as it allows users to navigate using their keyboard and specific shortcuts. 
Forms are accessible – carefully consider tool tips, error feedback and labels: If forms are not labelled properly, users with a screen reader will not get the same cue as those with no sight problems and it can be impossible to know what information should be entered. Each field on the form should be well positioned with a descriptive label.
Tables are accessible – use mark-up to associate data cells and header cells: Failing to mark-up to differentiate between data and header cells leaves the user reliant on visual cues to identify information and creates immediate barriers to accessibility.
There is sufficient colour contrast and brightness: Black text on a white screen offers maximum contrast, but if you're in doubt you can use a free colour contrast checker such as the WebAIM checker.
Links are descriptive, avoid "click here": Descriptive links make it much easier to navigate a page because they allow the user to make informed choices more quickly. Labelling a link "click here" doesn't give much contextual information and can cause accessibility issues if the rest of the page isn't optimised for usability.
The site is responsive and works across multiple browsers: Make sure your site is responsive or mobile friendly, and works in all of the popular, and most recent browsers.
The content is accessible when CSS is switched off or not supported: Some users will likely visit a site with a browser that either doesn't support Cascading Style Sheets (CSS), or has it switched off. This should not impact accessibility adaptions.
The content is accessible when images are switched off or not supported: Some users may use a website with images switched off, so adding descriptions of images, or instructions mean they can still get the best out of the website.
Audio and video elements do not autoplay: Users with screen readers rely on the ability to find the play/stop function of audio and visual elements using sound. Automatically started sounds could interfere with the navigation and make the page unusable. Not to mention that autoplay can be extremely annoying for all users.
Why stop there?
And it shouldn't stop there. Organisations should collect user feedback, particularly from users with a diverse range of access needs, on an ongoing basis, striving to continuously improve their digital accessibility and inclusiveness.
Source: Sigma