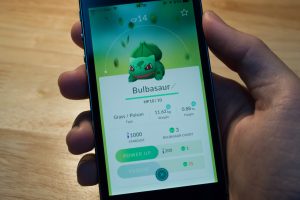 After having become one of the most viral mobile applications of all time, Pokémon Go will soon include advertising, according to its developer.
In an interview with the Financial Times, Niantic CEO John Hanke said that "sponsored locations" would provide a new revenue stream, in addition to in-app purchases of power-ups and virtual items. In other words, retailers and companies will be granted the paid opportunity to be featured prominently on the game's virtual map, in the hope to drive customers inside their facilities.
A Niantic spokesperson declined to provide further details about the amount of potential revenue split between ads and in-app purchases.
According to the Financial Times, the network of virtual "portals" mapped to on-street locations in Pokémon Go will be similar to the one featured on Ingress, Niantic's previous game. Brands that paid to create sponsored content in Ingress are pharmacy Duane Reade, café chain Jamba Juice and car-rental service Zipcar. In Japan, where Ingress is popular, brands that decided to buy similar in-game promotions are convenience store chain Lawson and Tokyo Mitsubishi Bank.
Advertisers will be charged on a "cost per visit" basis, similar to the "cost per click" used in Google's search advertising, Hanke said.
Some U.S. retailers have already found that being featured in the game can drive tons of real customers into their stores. "The amount of people has been astonishing," Tom Lattanzio, the owner of L'Inizio Pizza Bar in Long Island City, Queens, told The New York Post yesterday. The Financial Times reported that the pizza restaurant saw business increase 75 percent after buying a $10 in-game power-up that lured Pokémon to its location.
Other businesses and organizations have tried to attract visitors by emphasizing the large number of Pokestops around their buildings. The Art Institute of Chicago, for example, tweeted an invite to "Catch them if you can" around the museum.
Source: Tech Crunch