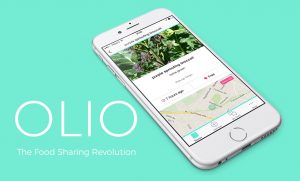 The UK's first ever food-sharing app OLIO launches in Cardiff to help combat food waste in the city.
Smartphone users in Cardiff will have access to the app, which has been described as Freecycle for food, providing local people and businesses with a simple way to cut food waste.
The free app connects neighbours with each other and local independent shops and cafés to share surplus food.
This could include food nearing its use-by date from shops, cafes and markets, spare vegetables from the allotment, cakes from an amateur baker or groceries from household fridges when people go away or move.
How it works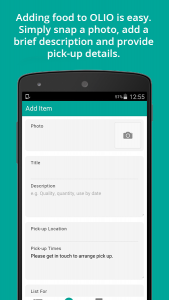 To use the app, users simply snap a picture of their items and add them to OLIO with a description, price (if applicable, although the vast majority of food is free), and when it's available for pick-up.
Neighbours then receive customised alerts and can request anything that takes their fancy, and arrange pick-up from home, OLIO drop boxes in local stores or another agreed location.
'Great addition'
Cardiff Central AM Jenny Rathbone said the app would help eliminate the "scandal" of food waste and complement the work of other groups already trying to minimise waste like WRAP, Fair Share and the Trussell Trust .
She said: "Most people have a mobile phone so it can alert people who don't even have money for the bus fare to where and when spare food is being made available locally. This will be a great addition to our climate change obligation to the three Rs: Reduce, Re-Use, Recycle. I look forward to putting OLIO in touch with the food movement in Cardiff."
OLIO say the social, economic and environmental case for action is compelling.
A third of all food wasted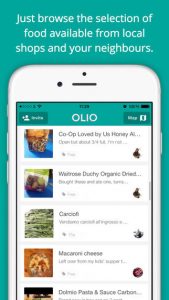 Globally, a third of all food produced is wasted and of the 400,000 tonnes thrown away in Wales each year, more than half is "good food" that could have been used.
In addition, UK households – responsible for half of all food waste – collectively bin over £12.5bn of edible food per year, at a cost of £700 to the average family.
The inspiration for the app came from the early experiences of co-founders Tessa Cook and Saasha Celestial-One, entrepreneurs raised in rural families witnessing the scandal of food waste close up.
Cook grew up on a farm, effectively seeing a third of her family's hard work go to waste, while Celestial-One is the daughter of Iowa hippies and equally passionate about the issue.
'Simple idea'
Since launching in December 2015, OLIO has been used over 275,000 times and featured three times by Apple as 'Best new app' in the App Store.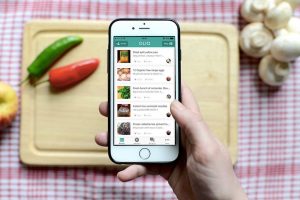 OLIO, which is now available in 38 countries around the world, was also the first retail technology start-up Sainsbury's partnered with on their 'Waste Less, Save More' initiative.
OLIO ambassador and Cardiff local Anna Necrews said: "OLIO is the perfect scheme to come to the lively, progressive and foodie city of Cardiff. It's a fantastic and simple idea to help win the war on waste."
The issue of food waste is also costly for local stores and governments, and ranks as one of the world's largest emitters of greenhouse gases.

Source: Wales Online