OPPO has officially launched their latest smartphone – OPPO F9 Pro – in the Indian market. To power the launch of this widely anticipated smartphone, Mullen Lintas Delhi has conceived the communication package.
India is amongst the fastest growing and largest smartphone markets in the world, making it a battle-ground for smartphone players to win the largest pie.
In a market that breeds on homogeneity and prompt imitation, what differentiates OPPO's F9 Pro is the VOOC Flash Charge, an innovation that lets users talk for 2 hours on just 5 minutes of charge.
The campaign idea hinges on a common life situation – staring at a phone that shows just one red line of charge, barely keeping the phone on and an urgent call needs to be made. The film captures this simple life observation, highlights the safety of women utilising the brand ambassadors, Deepika Padukone & Sidharth Malhotra, to showcase OPPO F9 Pro's supremely long-lasting battery.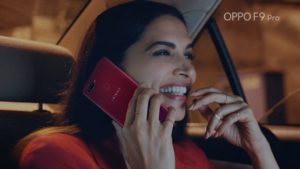 Commenting on the new TVC, Will Yang, Brand Director, OPPO India, said, "OPPO has always given utmost attention to consumer feedback. This time around our consumers wanted a phone that could last a long duration and enable them to live their life on their own terms without being dependent on their phone battery. This new TVC featuring our brand ambassadors portrays the same sentiment. It takes cues from the current situations consumers might find themselves in and highlights how the VOOC Flash Charge Technology of OPPO F9 Pro enables them to be connected always, even on the go. We believe that Mullen Lintas has fabulously woven a great story that will help us reach out to our audience and help them realise how the OPPO F9 Pro will empower them."
Amer Jaleel, Chairman & Chief Creative Officer, Mullen Lintas strongly believes in this product Innovation. He says "As a generation, we are always on the move. And always on the phone. This is an interesting mismatch in our lives and that's where F9 Pro has an important role to play. You only have to charge it for 5 minutes and you can chat for hours. It's a very relevant innovation today. And that's what the campaign intends to communicate. We've tried to capture this through a day in the life of a young lady and Deepika's portrayal brings it beautifully alive"
Syed Amjad Ali, President, Mullen Lintas had this to say about the campaign, "The mobile handset is a vibrant category and OPPO's journey in India has been fascinating. The agency has partnered with OPPO in the past. It was responsible for one of the selfies campaign earlier. OPPO has dominated the category with its selfie phones. The current campaign on battery power is designed to challenge competition for OPPO to dominate the category."
The campaign is live online and offline.
Source: Little Black Book