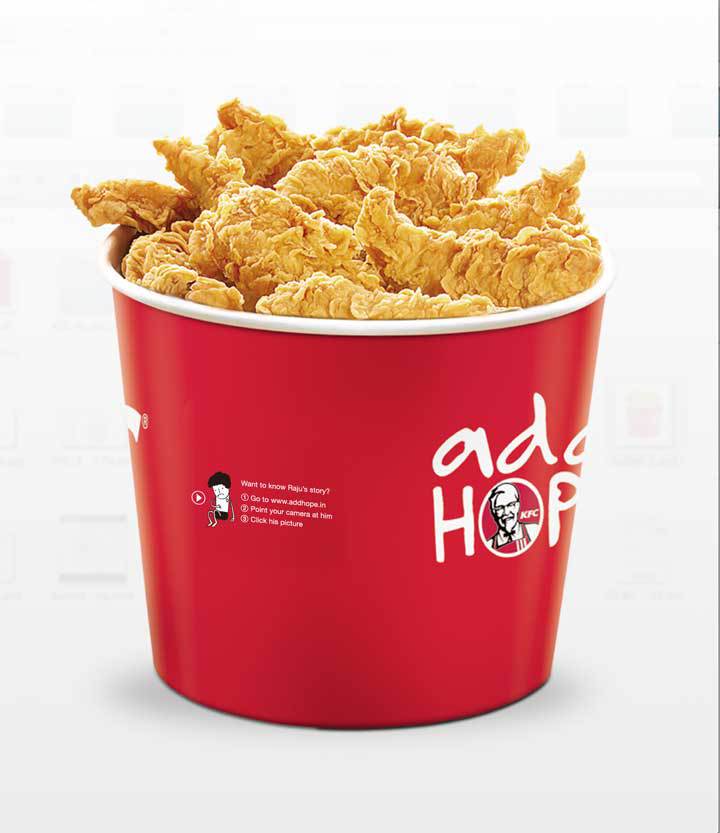 Ogilvy Delhi has created a digital campaign "You eat, they eat" for KFC's add HOPE initiative, where KFC will contribute upto ₹5 from the sale of every bucket. The agency saw an opportunity to use the KFC bucket to raise awareness for the plight of millions of children, suffering from hunger.
These short, animated films give us a glimpse into the lives of three less fortunate kids, Pinky, Raju and Gopal, who spend hours searching for food, every day. The same idea has been extended to various social media platforms.
Ogilvy Delhi integrated with Neo@Ogilvy for the packaging innovation, where image recognition technology was used to deliver content directly to smartphones users who bought the bucket.
Ajay Gahlaut, Executive Creative Director, Ogilvy Delhi said: "KFC's anti-hunger initiative, add HOPE, was an opportunity for us to do something different. So instead of following the traditional ways of advertising, we decided to use the KFC bucket as our messenger. We created animated films about underprivileged kids that play only when you order and scan a bucket. This technology-led approach made our films more interactive and inclusive, while pursuing the consumer to contribute for the cause."
Rahul Shinde, Managing Director, KFC India said: "Hunger is a very real and big challenge – at least 3,000 children die every day from poor diet related illness. The fact that millions of children go to bed hungry every night means that they are unable to grow, learn and thrive. It is a critical cause to unite behind. We couldn't be happier to announce that through the month of October, we will contribute towards fighting hunger from the sale of KFC buckets across 300+ stores and online. By making all our buckets add HOPE buckets and carrying audio visual stories of hope on them, we want to call on more people to support the cause. The more they do, the more hungry children we can help feed."
Biraja Swain, Chief Growth & Innovation Officer, Head of COE, Neo@Ogilvy, India added: "We at Ogilvy always believe in innovation at scale. The add HOPE campaign demonstrates it to the fullest extent. We have used image recognition technology to directly deliver content to smartphones enabling better discovery user participation for this CSR campaign."
Source: Little Black Book