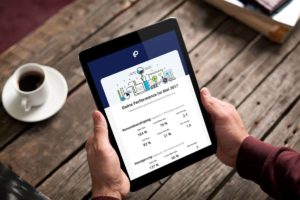 The London, Munich and Paris-based specialist for post-checkout communication, parcelLab, has successfully completed its Series B financing. In addition to a number of existing investors, including venture capital investor Coparion, Capnamic Ventures is joining the start-up as lead investor.
With this new capital, parcelLab will invest further in technology. However, the primary focus will be to greatly increase the UK, German and French teams and develop into additional markets.
"Constantly rising acquisition costs mean that customer retention in retail is becoming more and more important. parcelLab is in a unique position with its outstanding team and product to define and lead the category of post-checkout experience solutions," says Christian Siegele, Managing Partner at Capnamic Ventures. 
parcelLab was founded in 2014 by Tobias Buxhoidt, Anton Eder and Julian Krenge and has grown rapidly since then. The company now employs around 50 people, operates three locations in London, Munich and Paris and counts over 350 leading retailers and brands among its customers, including Ikea, Lidl, MediaMarktSaturn and MADE.com. 
"The solution from parcelLab is technically mature, easy to implement and achieves impressive KPIs with fast return on investment (ROI)," says Christian Schulte, venture capitalist at Coparion. "Rapid expansion in Europe is therefore the next logical step".
"All online retailers have so far focused on optimising the shopping experience for customer acquisition," says parcelLab co-founder Anton Eder.
This area has become sophisticated for most retailers now. However, there is still huge potential after a customer purchases to inspire customers, make them loyal permanently and to generate relevant additional sales.
"Thanks to the new financing round, we can not only refine our technology further, but also significantly strengthen our team in order to create even more awareness of this untapped part of the customer journey," added Anton.
Source: parcelLab