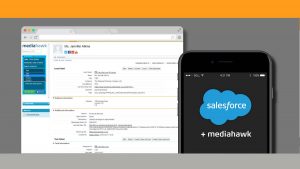 Mediahawk, the UK's premier provider of call tracking software, has launched an integration with Salesforce, global CRM (Customer Relationship Management) solution, achieving automatic end-to-end marketing attribution of phone calls.
This innovative integration provides Mediahawk customers with over 40 pieces of crucial data on every phone call, caller and conversation. Marketers gain greater insight into how every channel, ad, keyword and customer interaction drives leads to their business, and generates revenue at every single stage of the buying cycle.
Previously, marketers would gather data from a variety of platforms in order to analyse marketing and sales effectiveness. This was a time consuming and complex process, but now this automated data capture solution within Salesforce will give businesses the tools they need to plan more effective campaigns, reduce budgets and close even more leads, all thanks to one seamless integrated data set.
Here are the key benefits that this integration will help your business achieve:
Accurate attribution data for every call generated by your marketing campaigns eliminating the guesswork when it comes to offline customer interactions
Better understanding of which marketing activities drives calls and sales so budget is spent on the most profitable marketing
Significantly reduce cost-per acquisition as you'll know where paid advertising is proving effective
The customer journey becomes clearer thanks to the improved insight into individual customer journeys, with call data automatically linked to existing leads
Sales teams become better equipped and informed when following up with leads and when answering inbound calls with screen pops in Salesforce
Real-time call data in Salesforce saves time and provides instant access to caller data before a call is answered
Michael Morrell, Mediahawk's CEO said "This integration will help businesses achieve the transparency needed within customer data to achieve end to end attribution. Within one data set, marketers will see which channels are truly driving customer calls and revenue, whilst sales agents will increase call conversions thanks to improved insight."
Source: Mediahawk