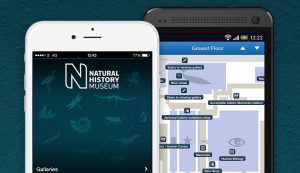 Traditional hand-held tour guides may soon go the way of the dinosaur at museums. The Natural History Museum in London is one such museum that is exploring the use of mobile apps to give visitors a more personalized and relevant experience.
More than 5.6 million people walk through the Natural History Museum's doors each year and meeting each visitor's personal interests is a challenge, notes Digital Media Strategy Manager Celena Bretton.
"It's an interesting problem in terms of how we can speak to the many different people who come through our doors," Bretton says. "We want to talk to people in a way that's meaningful to them, and increasingly, that seems to be through their smartphones."
As more and more visitors spend time searching for information on their phones while they're in the museum, it was important for the museum to be part of those conversations. The museum already uses Adobe's Experience Manager to power its website so it made sense, Bretton explains, to use Adobe Experience Manager Mobile as well.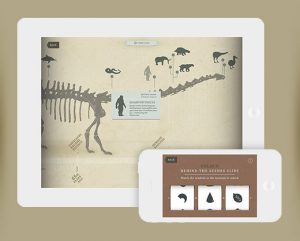 The goal was to build an app that adds convenience and value to the visitor experience. "We wanted an app that can serve the entire customer experience," Bretton says. "It's not just about getting information about our galleries. People should also be able to buy tickets to exhibitions and events, find places to eat, and check out the latest offers from the gift shop on the app."
Last year, the museum worked with Ensemble, a software consulting company, to develop the app, which it introduced in April and already has more than 8,000 users. The app highlights information about exhibits that are going on that day and includes an interactive map of the museum that visitors can click on for more information about each gallery. It also has an offers section that visitors can show to the cashier to receive a discount on snacks.
A particularly interesting app feature uses signal information from the museum's WiFi network to pinpoint where visitors are standing in the museum, which display they're likely looking at, and which gallery they're walking to next. For visitors who have opted in to receive push notifications, the museum can use that data to deliver contextual information about the display that they're looking at or suggest other exhibits and events. "Being able to offer these features gives us new ways to highlight attractions and encourage people to explore," Bretton says.
The data also gives the museum insights into user behavior that they can use to enhance the app and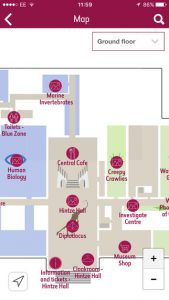 potentially change the exhibition layout. "It tells us which galleries are popular and where visitors might be wandering off," Bretton adds. Furthermore, the user data reveals insights that may not be obvious from a feedback survey. For example, visitors had indicated in surveys that they would like to receive more in the formation about the galleries, "but not too much information—just a few details about what they can expect to find at a gallery," Bretton notes. "What we noticed is that visitors were actually using the map much more than the gallery listings so we've moved aspects of the gallery listing into the map itself. That way when you're at a point of interest on the map, you can just find the information you want about it without having to open a new section of the app."
There's still more that can be done to enhance the app, Bretton notes, and so the digital team will continue to analyze how people are using it, their path through the museum, and what decisions they're making after receiving push notifications. Eventually, the museum would also like to connect with other organizations, like amateur science communities, and provide other features outside of the museum. For example, people might be able to use their phones to identify a bird they've encountered in their back yard, using information from the museum's partnerships. "It's still early days," Bretton notes, "but there's so much that we could do to create a better visitor experience and bring science closer to our communities."
Source: 1to1media