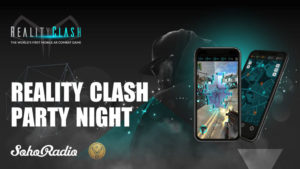 A pop-up shop that accepts only digital currency will open this September in London to kickstart the launch of the capital's Crypto Week.
Both initiatives are the brainchild of the Reality Gaming Group, which has joined forces with Soho Radio and Jägermeister to give London's consumers the opportunity to find out how to buy and use cryptocurrency – with visitors to the store being given free masterclasses and even free virtual coins to allow them to make their first crypto transactions.
Crypto Week will be a celebration of cryptocurrency, blockchain technology, video games and music, both in-store and in dedicated Soho Radio shows with expert panellists.
The entertainment sectors, in particular, are discovering innovative new ways to monetise business more fairly for all using a blockchain – the digital 'ledger' which logs all cryptocurrency transactions.
A series of dedicated live radio shows on Soho Radio are scheduled through the week, featuring experts in the field.
In addition, every day from 3pm, there will be experts on hand in store to provide Crypto Masterclasses. Visitors will be shown how to create their own Digital Wallets and will be provided with free 'coins' so they are able to buy a range of merchandise in-store – and learn how these digital transactions take place.
Plus, there will be live music every day at 6pm, as well as the chance to be amongst the first to experience the latest mobile game which combines crypto, blockchain, Augmented Reality and geo-location technologies – Reality Clash.
Due for release in Q4, Reality Clash is an innovative augmented reality first person combat game for mobile devices set in an underground world of cryptocurrency and hackers. Players will be able to connect to friends in real-time using geo map technology, join private teams and enter competitive tournaments.
"London is already leading the way in the cryptocurrency scene, and so it's right for us to dedicate a week to celebrating this brave new world," said Reality Gaming Group's Co-Founder Tony Pearce. "We are conscious that many people are aware of cryptocurrency but don't know where to start with it – or think that you have to invest thousands of pounds. Our pop-up store, plus the launch of Crypto Week, will give everyone the chance to learn how to use cryptocurrency, whilst also offering some great entertainment, including live bands, video games, competitions and more."
The Reality Clash Crypto Store will open on Monday September 10th at 22c Great Windmill Street, London W1D 7LD. The store will be open from 3pm – 9pm every day until Friday September 14th.
Source: Net Imperative