LinkedIn has launched video for Sponsored Content and Company Pages, letting B2B marketers post 'visually compelling stories' to their audience on the business-focussed social network.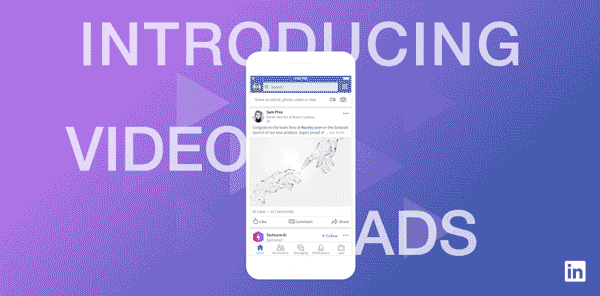 Marketers will be able to use LinkedIn's suite of B2B targeting capabilities available for video for Sponsored Content, to target audiences by traits including job title, seniority, company name, industry, skills, and more. Video for Sponsored Content will also integrate with LinkedIn Matched Audiences, enabling marketers to target the priority accounts and leads of their sales teams.
Organic native video has been used by LinkedIn members as a new and creative way to share knowledge and express themselves.
Tom Pepper, Head of LinkedIn Marketing Solutions UK, said: "Following the launch of our video advertising pilot last year, we've seen hundreds of advertisers test out video for Sponsored Content on topics ranging from products and services through to customer success stories and even thought leadership content. With LinkedIn members spending on average almost three times more time watching video ads than engaging with static Sponsored Content, video is helping marketers grab the attention of decision makers with more visually compelling stories than ever before."
Chris Hayek, Head of Global Media at Shell, who took part in the beta phase, commented: "Video on LinkedIn allows us to reach professional audiences in an unparalleled business context. There is no denying the power of video in today's marketing mix, and we are really excited to see that it's no different when applied to a professional audience. It opens us up to another level of creativity, which we look forward to exploring even further."
With Company Pages video, organisations will now be able to share first-hand looks into their culture, products, news, and events to drive engagement with professional audiences right from their Company Page on LinkedIn.
Source: Net Imperative