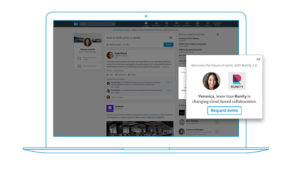 LinkedIn is bringing its Dynamic Ads product to its recently redesigned Campaign Manager, making it easier to target professionals on the social network with personalised ads.
Dynamic Ads automatically customise ad creative using the publicly available information present on the profiles of LinkedIn members. And, in order to get deeper customisation, data mapping tools are available to advertisers.
Meanwhile, pre-built templates enable creative to streamlined, auto-translation makes it possible to reach people whatever language they speak, and – for the first time – campaigns can be A/B tested.
"The creative is automatically personalised with each member's profile info, like their photo, first name, company, and job title, you can capture your audience's attention in a way that standard display ads can't," said Ayusman Sarangi, principal product manager at LinkedIn, in a blog post. "Personalisation is now simpler than ever. Build your creative and write your ad copy once, and LinkedIn takes care of the rest by automatically personalising your campaign for each person you target."
Dynamic Ads will become available within Campaign Manager for all businesses over the next week.
Source: Mobile Marketing Magazine