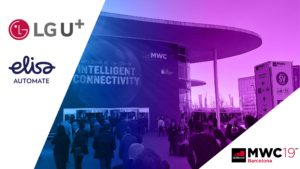 LG Uplus, the South Korean mobile network operator and Elisa Corporation, the Finnish mobile network operator, have signed a memorandum of understanding (MoU) at the Mobile World Congress 2019 in Barcelona.
The MoU defines the partnership for cooperation in innovation, startup collaborations, service and network automation development. Both LG Uplus and Elisa have high priorities for 5G services in their respective countries and will actively roll out 5G base stations during 2019. The MoU will help the mobile network operators work on ensuring high network quality for their customers and advance in the development of network automation for 4G and 5G.
The parties will also cooperate to identify new business opportunities with international startups. Both LG Uplus and Elisa has experience from collaborating with startups to improve operation and serve customers. The MoU will support and benefit the companies and startups in their future collaborations.
Mr. Hyunhwoi Ha, Vice Chairman of LG Group and CEO of LG Uplus. said, "Elisa is the leading mobile data providers in Finland. We are impressed with their agile way of developing new services with startups and their network automation innovations. Working together with Elisa will help us operate our network more efficiently and benefit our customers."
Veli-Matti Mattila, CEO of Elisa Corporation added, "LG Uplus is a forerunner in 5G services and in the adoption of 5G technologies. We believe that this partnership will help us and LG Uplus to develop and improve both 5G and existing network operations. We are also excited to work with LG Uplus on startup partnerships. This has been a success at Elisa and we believe working together will take startup collaborations one step further."
Kirsi Valtari, VP, Head of Elisa Automate mentioned, "LG Uplus is rolling out large scale 5G networks in a technology driven country with high customer expectations and great quality of service. We expect that this cooperation for joint development of AI powered automation to be a game changer and that it will improve the way networks are being operated even further."
Source: Elisa Corporation