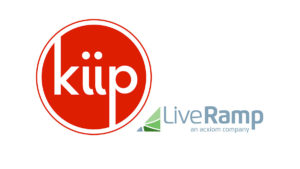 Kiip, a leading mobile marketing and monetisation platform launched Kiip Action Audiences, the first-ever mobile audience product combining both real-life behaviours and survey-verified intent. Kiip Action Audiences are being rolled out through LiveRamp, an Acxiom company and leading provider of omnichannel identity resolution.
LiveRamp's IdentityLink Data Store will offer Kiip Action Audiences, allowing marketers to easily access and activate this unique signal-based, transparently acquired solution. As a result, consumers can expect to have a more meaningful and seamless experience throughout the digital ecosystem with more relevant, personalised messaging from the brands that they value and prefer.
Unlike many audience products, which are informed by a single data point around assumed interests, Kiip Action Audiences are built by combining anonymous, event-level data points with information verified through survey responses. An event-level data point can represent any number of real-world actions taken through a mobile app, such as completing a jog, visiting a location, redeeming a travel offer, or sharing a recipe. Kiip Action Audiences merge these tangible moments with results from Kiip Surveys and other deterministic attributes — such as timestamp, device characteristics, campaign engagements, and highly accurate POI-level location data powered by Nikaza — to create comprehensive, multidimensional audiences.
Kiip Action Audiences delivers a deep level of sophistication and intuitiveness when it comes to applying data points effectively and accurately by combining multiple data points to identify people who truly live active lifestyles. Such device-specific data points include having recently used a fitness app, achieved a step goal, been seen at a gym, redeemed a yoga offer and reported working out four times per week via a first-party survey.
Take, for example, a brand that is looking to engage with fitness buffs. By leveraging Kiip Action Audiences, the brand is able to leverage both location signals (e.g., visits to the gym), as well as affirmative intent information (e.g., app behaviour, survey responses, etc.) to create a complete and comprehensive audience for marketing use.
"If you want to reach a health conscious consumer, you can run an ad in Men's Health, or you can reach them within an exercise app at the moment they complete their run," said Kiip founder and CEO Brian Wong. "At Kiip, we're focused on helping marketers tap into the value of these real-world events to engage with consumers. Billions of these mobile interactions have occurred across Kiip's network, and they power Kiip Action Audiences."
"Marketers today find value in rich audience data that is based on verified actions that signal real interests in a timely manner," said Luke McGuinness, GM of Data Store, LiveRamp. "We're excited to add Kiip Action Audiences to the IdentityLink Data Store, and to offer real-world mobile audiences that marketers can use to engage customers at the right moment."
Kiip Action Audiences are further informed by Kiip Surveys, which enable brands to directly poll tens of thousands of relevant consumers around topics that are important to their businesses.
Kiip Action Audiences are currently available in the LiveRamp IdentityLink Data Store for activation across all major DSPs. Additionally, Kiip can also generate more granular custom segments through the same methodology or by layering third-party data where needed.
Source: Kiip