The Hindu Newspaper in India wanted to awaken every citizen, who is also a potential reader of the Newspaper, by demonstrating the two sides of the city of Bangalore like never before.
One blessed by mother nature with a thousand lakes and evergreen gardens. The other cursed and torn apart by the woes of human density in a concrete jungle. The lines are blurred between the two cities gridlocked by traffic jams, garbage dumps, potholes, pollution, vanishing lakes and worse.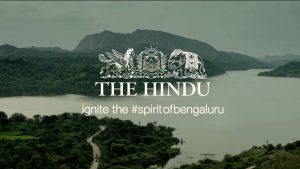 J. Walter Thompson India created the unique mobile code that was cracked for two different videos to run parallel at the same time on one interactive video platform, viewed by simply switching the orientation of your mobile phone screen, from landscape to portrait or vice versa, inviting every citizen to see the change or share and be the change that you want to see in your city.
The more the interactive mobile video was shared, the cleaner the view became on which city every citizen wanted to live in. A newspaper had delivered an important wake up call to every hand held device that "Real change is in your hands."
Source: Campaign Brief Asia