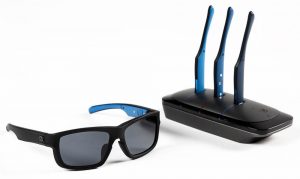 INNOCEAN Worldwide Seoul will present "Smart Driving Sunglasses" at the world's largest electronics exhibition, Consumer Electronics Show (CES) 2018.
This will be the first time for INNOCEAN to host an independent booth at CES, which also marks the first time an advertising company has developed an ICT product to showcase it to the global market.
These sunglasses are optimised to support drivers' convenience and safety in different driving conditions with replaceable temples for personal customisation. Each set of temples has a different smart function allowing drivers to customise the glasses according to their needs. This replaceable temple system and slim design make them lighter and more comfortable to wear compared to the existing smart eyewear products, and they can be worn even during regular daily activities. The product was developed from the idea that sunglasses are worn frequently while driving, and the aim was to make that experience more convenient for drivers.
The smart driving sunglasses have three different functions:
preventing drowsiness
preventing dangerous manoeuvres
supporting sound recognition for the hearing impaired
For example, the temples with drowsiness prevention support read bio-information of the driver through internal sensor modules and trigger vibrations when drowsiness is sensed.
In addition, the sunglasses feature light reactive auto-tint lenses, which helps clear drivers' vision in any circumstances. For example, when the driver enters a tunnel, the lenses become transparent within 1 second, and when the car exits a tunnel, they will automatically return to tinted sunglasses also within 1 second. According to INNOCEAN, its smart driving sunglasses carry this light reactive auto-tint lenses as a standard feature which helps eliminate the hassle of putting on or taking off one's sunglasses.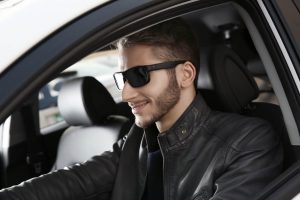 A staff member of INNOCEAN said, "We will continue to expand our life-tech business with the aim of providing consumers the joy of convenience in their daily lives. The smart driving sunglasses are the first step in that direction, and we will continue to push forward."
INNOCEAN plans to launch the smart driving sunglasses in Korea as well as in overseas markets under the independent brand "GLATUS." The company has submitted applications for trademark, technology and design patents. INNOCEAN's plans for "GLATUS," which means "to make life enjoyable and prosperous," include expanding the device's features so that they support not only driving, but also traveling, exercising and additional daily activities.
By hosting an independent booth in the CES Wearables Marketplace, INNOCEAN expects to present the sunglasses to visitors that should include global ICT company and startup developers.
INNOCEAN's Ahn, Kun-Hee commented, "To further grow as a sustainable global marketing communications company, our goal is to develop innovative customer experience contents. INNOCEAN plans to focus its competitive competence into creating various life trend products."
Source: Campaign Brief Asia