I know how exciting advertising tech is. I can sense your wavering trepidation at reading about anything advertising related. On the other hand, this is about emojis as well and I know how much you love emojis. After all, emojis could be the future of communication so why not advertising as well? Now Inmoji takes that leap by opening up its emoji based advertising platform to anyone with a reason and a hundred bucks.
The concept is pretty simple, the Inmoji network of 42 million users across numerous platforms (Oovoo, Tango, Badoo, Blackberry and iMessage 10 Inmoji ICE application) will now be open to anyone who has something to advertise. Inmoji has run successful campaigns with Starbucks, Interscope, Disney, Universal and Walmart. All these campaigns showed engagement rates of over 100%, which is made possible by engaged clicks being a larger number than sends.
When a business (or individual) starts an Inmoji campaign, a clickable sticker is created and spread across relevant network channels as an interactive emoji. While some may prefer to refer to these as "clickable icons", that sounds so clinical when it comes to emoji ad-tech. These emojis, when clicked, deliver movie trailers and movie times if that's what you're searching for. New music and musician and ticket information if that's what you're searching for and so on.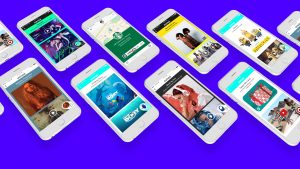 For instance, Universal ran a one month campaign for The Secret Life of Pets DVD release that saw over 17 million impressions and an engagement rate of 102%. Sure, that's a major movie studio. Conversely, Schiller Bikes, a very specific manufacturer of water bikes, ran a one month campaign on the self-service product beta and saw impressions over 850 thousand and an engagement rate of 106%. All through freaking emojis.
With eight billion impressions and 47 million clicks in 2016, Inmoji's expansion into the consumer market is pushing estimates of 40 billion impressions and 250 million clicks in 2017. The goal is simple, Inmoji wants to be the one-stop emoji advertising shop for brands around the world, in all messaging apps on all platforms.
"We built this platform to help scale our business worldwide. We're giving anyone with any size budget the ability to create and deliver unique, clickable Inmoji icons and experiences to our 100 million daily users on the world's biggest messaging apps," says Co-founder and CEO Michael Africk.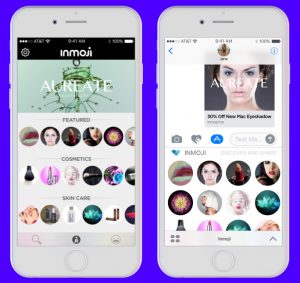 Africk, a serial entrepreneur and former Disney recording artist who performed with Britney Spears and NSync, makes no qualms about rolling out ad-enabled emoji stickers to as many brands as possible. "We have also looked at the fragmentation of the sticker market with regards to reach and formatting, and as the leader in this space saw the opportunity to drive the standard by giving our current and future clients a one stop shop for creating/customizing one sticker pack for ubiquitous distribution across all messaging apps."
Advertising tech tends to be a bit on the invasive side, with pop-up ads and annoying auto-play videos and banners that destroy content consumption. A consolidated, compact and sticker based advertising platform has got to be a good thing for the future of mobile advertising right? That's the read I get from Inmoji's platform, that people love emojis and no doubt click on them in ad formats. Inmoji's case history is impressive and new brands and individuals with any size budget should be able to find value here.
The bottom line is that advertising on mobile tends to suck, as an experience and as an annoyance. Well, it succeeds as an annoyance. The experience is different with emojis, as Inmoji reports that 100% of users that receive an inmoji click it and 50% of those users share it. All those impressions lead to clicks which lead to sales which lead to profitable campaigns, all without annoying the crap out of users. Whether or not we end up communicating only through emojis in the future, we can at least start advertising through them.
Source: Forbes