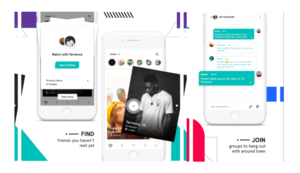 Generator, the award-winning accommodation brand which has disrupted the hospitality industry across Europe and now the US, is continuing to break boundaries through its ground-breaking app, GenFriends. The app enables guests to personalise their travel experience by connecting to fellow globetrotters through a group messaging service, catered to each location.
Renowned for its unique mix of hip-designed, super-friendly social spaces and an ever-evolving programme of curated events, Generator's latest app provides another opportunity to connect guests from across the globe, cementing the brand's reputation as 'masters of social experience'.  
Similar to other location-based mobile social apps, the app offers a "swipe" feature to "match"with like-minded travellers. Guests can mingle with singles or groups of travellers, share cultural interests, itinerary suggestions and practical tips. With solo travel rising rapidly – Generator has seen a 35% increase in female solo travel bookings this year (2019) – GenFriends makes solo travel easier and more exciting than ever.
Those looking to fully immerse themselves in the local culture can "match" with local residents, who can provide authentic local recommendations. In addition to social networking, GenFriends also offers exclusive accommodation and F&B deals across its fourteen properties, local area guides and will soon boast exciting new features including a 'mobile key', with which guests can access their room via their mobile device, access to music playlists in communal spaces and an in-app payment system. 
GenFriends is compatible for both Android and iOS users, and now available for download on the Google Play Store and iTunes App Store.
Source: Generator