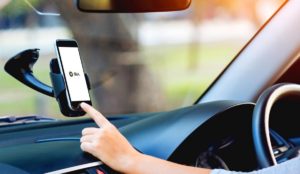 India's ride-hailing giant Ola is bringing its business to another overseas market, stepping up its international challenge to Uber. Now, it's heading to the UK's capital city, adding to the intense competition Uber already faces in one of the world's most active ride-hailing cities.
Transport for London (TfL) has given Ola the nod to begin operating in London, handing the company a private hire vehicle license. It's expected that the service will launch around September.
"London is one of the world's most iconic cities and hosts a progressive mobility environment," an Ola spokesperson told the Financial Times. "We are looking forward to building world-class mobility offerings for London, by collaborating with drivers, riders, the government and local authorities."
Ola's arrival adds to the increasingly crowded taxi market in London where, beyond Uber and the city's iconic black cabs, there are services such as Kapten, Xooox, Addison Lee, ViaVan, and Bolt.
London isn't the first UK location to gain Ola's services. The ride-hailing firm has already launched in parts of Cardiff, Liverpool, Birmingham, Reading, Bath, and Bristol in the past year.
TfL has handed Ola a license for 15 months, as it does with all ride-hailing services, before it will be forced to go in search of a renewal in October 2020.
Source: Mobile Marketing Magazine