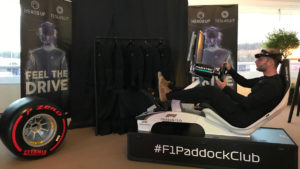 In partnership with Teslasuit, Rokid and Lumus, HeadsUp curates the first full body multi-sensory driving experience to the F1 Paddock Club delivering an unprecedented level of immersion: Feel the Drive.
Hosted at the F1 Paddock Club, "Feel the Drive" is created by using the on-car camera feed and telemetry data from Lewis Hamilton's pole position lap at the FORMULA 1 Gran Premio de Espana EmiraTES 2018, where he set a new track record with a time of 1:16.173.
Using the state of the art Lumus AR Optical lens or Rokid headset twinned with the incredible Teslasuit, Paddock Club guests are able to visually experience and feel how a lap of the circuit in an F1 car should be driven – racing round the track at full speed – experiencing visually and physically Lewis Hamilton's 2018 pole position lap.
The Teslasuit haptic sensors replicate the acceleration, g-force, gear change and braking of Hamilton's victorious 2018 pole lap Every vibration and force is translated to the body by the haptic sensors, which are synched to the data collected from his car, giving unparalleled insight into the technique of one the most successful F1 drivers of all time.
F1 Paddock Club guests are able to sign up to "Feel the Drive" to reserve their own unique twenty minute experience throughout the weekend. It will be a showcase of these innovative platforms within a world class hospitality environment, highlighting their groundbreaking technological potential.
Kate Beavan, Director of Hospitality and Experiences for F1, spoke of the activation, "This is exactly what the F1 Paddock Club is all about – taking the best and most groundbreaking immersive experiences and offering them to our guests. Experiences that people won't forget are our business and what could be better than this! Thanks to HeadsUp for bringing Lumus, Rokid and Teslasuit in order to deliver this genuinely unique activation. I can't wait to see our guests having a go."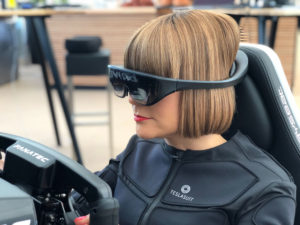 Paul Nickeas CEO and Founder of HeadsUp commented: "We are exceptionally proud to be delivering a multi-sensory fan experience at the F1 Paddock Club. F1 is the most technology advanced sport and entertainment platform – working on this with the team has been an amazing opportunity to deliver a world first for sports."
"Using a combination of mixed reality optics, haptics and telemetry data, we have designed "Feel the Drive" to be the ultimate data-driven racing experience, a chance to feel the sheer power of an F1 car at speed, from acceleration, gear and throttle changes, braking, cornering with all of the excitement delivered by wearable tech of the future. Working at R&D level with companies like Teslasuit, Lumus and Rokid, we are able to combine and manipulate next generation technology alongside F1 car performance data to create unforgettable fan experiences," continued Paul.
Dimitri Mikhalchuk, Chief Revenue Officer at Teslasuit commented on the activation: "The unique features of the Teslasuit helped make possible a breakthrough in simulations to share the extreme emotional intensity that F1 is all about. The powerful synergy from the multiple systems within the world's first full-body haptic Teslasuit guaranteed the maximum immersive experience deliverable. We are delighted to be part of this project and to bring our breakthrough technology to the world's most competitive motor racing environment of F1 to enable its fans to experience motor racing like never before."
David Goldman, VP of marketing at Lumus, "We are thrilled to be aligned with HeadsUp, Rokid and Teslasuit – all leaders in the immersive computing space with a passion for demonstrating the potential of AR technology.
The Lumus optics featured in this F1 Paddock Club activation have been judged by the leading experts in the AR industry to best in class in nearly every parameter including resolution (1080p), brightness of image and field of view allowing for an unparalleled visually immersive experience for those fans at the F1 Paddock Club who will participate."
Source: HeadsUp