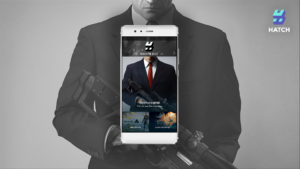 Hatch, the mobile games-on-demand service spun out from Rovio, has made its debut in the UK and Ireland with open beta access for Android users via Google Play. On Hatch, users can discover and instantly play a broad selection of high quality, premium games from more than 100 developers and publishers.
Square Enix Montréal is the latest developer to sign on with the Hatch platform, bringing four more highly acclaimed games to the service later this year: Hitman GO, Lara Croft GO, Deus Ex GO and Hitman Sniper. The Square Enix Montréal titles join a collection of high quality, premium games from established majors like Ubisoft (Rayman Fiesta Run), Taito (Space Invaders Infinity Gene) and Bandai Namco (PAC-MAN CE DX) and celebrated indies like ustwo Games (Monument Valley), Frogmind (Badland) and Butterscotch Shenanigans (Crashlands).
As the first mobile app ever to stream games as easily as movies or music, from January 26 Hatch Beta will also be featured in Google Play's Early Access collection of the latest and most exciting apps currently in development.
Currently more than 100 games are live on Hatch, and all are premium, full-featured experiences, with no in-app purchases and no limits. Players can clip and share short gameplay moments as they happen, both to their personal Hatch feeds and to other social networks. Users can also play Hatch games together with their friends and family in real time with voice chat.
The service's cloud-based architecture also means that no games are ever actually downloaded – they are played over the Internet – freeing up local storage space on mobile devices. Bandwidth usage varies by game, but is significantly less than HD video streaming.
"Hatch was founded to change the way we discover and play games, and to create new gaming experiences to share with the people in our lives," says Hatch Founder & CEO Juhani Honkala. "The UK and Ireland together represent a major gaming market, and we look forward to learning from users in the region how to build on and keep improving the ultimate place on mobile to discover, play and share great games."
"We are really excited to share our portfolio of award-winning games, including Hitman Sniper and the GO Series with the Hatch community," says Patrick Naud, Head of Studio at Square Enix Montréal. "It's important to us as a studio that we present new audiences with alternate ways of accessing our titles and we are looking forward to doing so with innovative and forward-thinking partners such as Hatch."
Hatch is currently free with ads. An optional paid, fixed monthly subscription that adds exclusive content and features and removes ads will be introduced later.
Source: Hatch