Google Station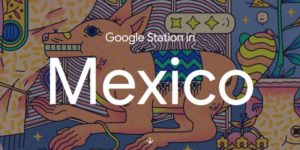 is the company's high-speed public Wi-Fi platform that first launched in India two years ago and later expanded to Indonesia. The free service is now available in Mexico City.
The premise behind Station is to improve access to high bandwidth services in areas where internet data plans might not be affordable, and thus users are reticent to surf the web. Google notes that this is the case for today's launch:
"In Mexico, the third highest Internet penetration country in Latin America, most people access the web through mobile. But even as data plans are more affordable than ever, people are always looking for ways to enjoy the web without using up their data. And access to information is still a challenge for many."
For this first rollout of Station in Mexico, Google is partnering with ISP Sitwifi to convert existing hotspots. At the moment, over 60 high-traffic venues throughout the country have Station up and running. A full list is available here.
This includes airports, shopping malls and public transit stations, with a plan to have over 100 locations in 45 Mexican cities by year's end.
Source: 9to5Google