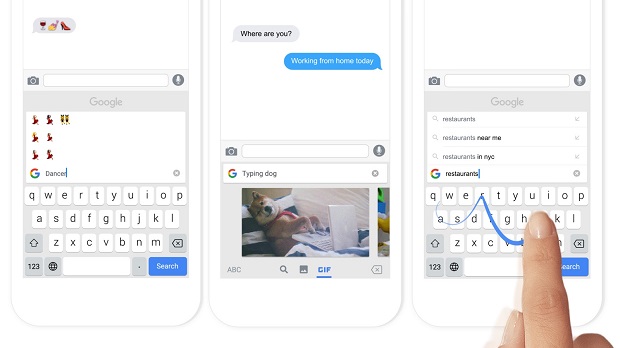 Google has launched a new keyboard for iOS devices that directly integrates search functions, such as maps, GIFs or shopping results, into user's messages.
Called Gboard, the keyboard features a button on the upper left that lets users perform web searches, look for images or GIFs, or even search for emoji without ever leaving the keyboard. Results from web searches can be instantly pasted into a text box.
In addition to the search functionality, Gboard also offers Swiftkey-style word tracing, letting users swipe their thumb over the board to create words, rather than tap each letter.
Gboard's privacy policy says Google will not send anything the user types , apart from searches, back to Google. The keyboard can adapt to typing by, for example, learning the particular way the user spells their name.
The app is currently only available to Apple users, but Google said it plans to release an Android version too.
Google is "working on the best way to bring the same functionality to Android right now," said Bri Connelly, a Google product manager involved with Gboard, on Thursday.
Source: Net Imperative