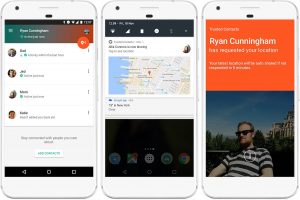 Google has rolled out Trusted Contacts, an app to let users' loved ones know they're safe.
The launch coincides with the aftermath of a deadly Oakland, California fire over the weekend, during which Facebook activated its Safety Check feature, according to the San Jose Mercury News.
The new Android app lets users identify trusted contacts with whom they might share their location, if they're ever in danger or for some reason are unable to respond to the usual "are you OK" text messages.
"This new personal safety app lets you share your location with loved ones in everyday situations and when emergencies arise — even if your phone is offline or you can't get to it," Minh T. Nguyen, a Google software engineer, writes in the company blog post announcing Trusted Contacts' release Monday, the article notes.
The app lets users identify as many trusted contacts as they want. They can then share their location when they are feeling unsafe; field requests from those contacts to share their whereabouts; and allow those contacts to see their phone's activity — which might help determine where a person was last seen, for example, according to the article.
All this sharing of course brings up safety, privacy and creepiness concerns. Google says in its post that "you can stop sharing your location or change your trusted contacts whenever you want."
Trusted Contacts has features similar to that of Latitude, a location-tracking offering that Google discontinued in 2013.
Source: The Drum