Google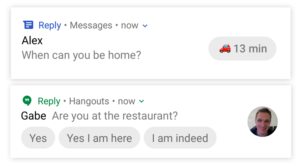 is planning to launch an app that will allow users to reply to a message from any app with a single tap from the notifications bar. The app called 'Reply' will guess a reply and provide three smart options to respond using a single tap by integrating itself with different messaging apps.
A similar feature called Smart Reply is currently available on Google's Allo and the Android Messages app. However, the new app brings the smart reply suggestions directly to the notifications channel, which makes them a lot more useful.
According to a report on AndroidPolice, invites to test the 'Reply' app was sent by Area 120, a Google division that works on experimental products.

The app basically adds smart replies in the form of buttons on the app notification, in the notifications bar, allowing a user to reply with a single tap to a message.
The report reveals that 'Reply' will not just add simple responses but smarter ones that indicate time as well, as seen in the screenshot below.

Other additional features of the app includes a 'Do Not Disturb' mode that informs people that you can't chat right now because you are driving. If a user gets an urgent message like 'We are waiting for you', the app makes sure it gets your attention even if the phone is on silent.
According to the report, the app can check your calendar and tell people if you are not working. The teaser of the app sent to a tester also mentions that the Reply app will work with Hangouts, Allo, WhatsApp, Facebook Messenger, Android Messages, Skype, Twitter DMs, and Slack.
A recent teardown revealed that some of Reply's functionality might come as a feature of the Google keyboard app, Gboard. Perhaps the Reply app activates some functionality in Gboard, or the app is for people who use another keyboard.
Source: Firstpost