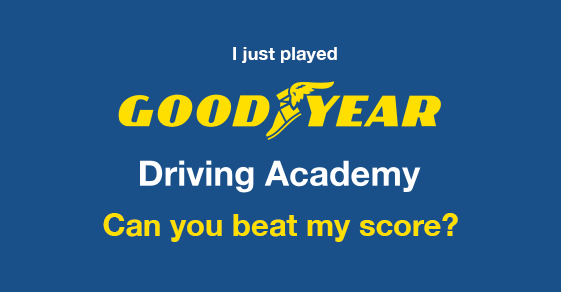 Goodyear Tyres UK has embraced virtual reality to inform young people of the dangerous distractions that can arise during driving.
Using a 360-degree game app (Driving Academy), Goodyear has partnered with the Driving Instructors Association to highlight the dangers of driver distraction on the back of research claiming 42 per cent of 17 to 25-year-olds have used a mobile phone at the wheel.
It makes the argument that 23 per cent of young drivers claimed they have had an accident or near miss in the last 12 months due to being distracted and a tenth even log in
to social networks like Facebook whilst driving.
Kate Rock, PR manager of Goodyear Tyre UK, said that the immersive experience literally puts users in the driving seat: "One in five young drivers have an accident in the first six months of passing their tests. In our game, you simply lose points if you get distracted, but transfer the scenarios to a real life driving environment and distractions can end up changing lives.
"If we can teach road safety to teenagers before they begin to drive, we can try to encourage safer behaviour throughout the learning and driving process."
She concluded: "Integrating VR into our Driving Academy was the natural next step – not only to ensure that we are at the forefront of the latest technologies, but also to communicate and interact with our core audience for the Academy – millennials and Generation Z – in a way which is most applicable to them."
The app is available at drivingacademy.goodyear.co.uk and can be accessed using Google Cardboard – or without.