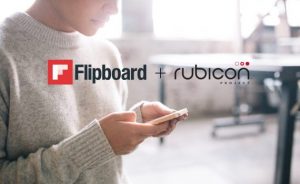 For the first time, Flipboard makes its ad inventory available for real-time buying through an invite-only Private Marketplace (PMP) enabled by a new strategic alliance with Rubicon Project, operator of one of the largest advertising marketplaces in the world. This partnership allows existing clients to buy Flipboard's rich mobile ad inventory in an automated fashion, complementing existing direct relationships. Furthermore, it makes Flipboard's highly engaged audience available programmatically for the first time to premium brands on Rubicon Project's private exchange.
Rubicon Project's technology gives advertisers direct access to Flipboard's highly engaged 90 million monthly active users during uniquely influential moments: when they are deeply immersed in their passions and receptive to relevant brand messaging. Flipboard's audience is comprised of equal parts Millennials, Gen-X and Baby Boomers. They turn to Flipboard as a single destination to access curated content from thousands of the world's leading publishers, including Condé Nast, Hearst, CNN, and News Corp, among others.
The targeting methodologies available for Flipboard's premium mobile inventory via Rubicon Project's leading Guaranteed Orders and Private Marketplace platforms mirror the current ways brands can reach audiences based on interests. Interest targeting, enriched with audience data, lets brands reach people based on billions of stories across thousands of publishers that users are reading, sharing, curating, liking, and discussing. Flipboard's PMP supports both automated guaranteed and private marketplace transactions.
"Our advertising partners have told us they want to be able to buy our unique inventory in both a direct and automated way. We developed our private marketplace to fit our premium advertisers' unique needs for a high quality environment and support for impactful mobile ad formats," said Mike McCue, founder and CEO of Flipboard. "In Rubicon Project we've found a truly strategic partner with a deep understanding of the mobile marketplace that is able to support guaranteed ad placements on our premium platform and run our custom ad units such as full screen display and native ads."
"Flipboard has an incredible commitment to collecting and aggregating content from the highest quality publishers and brands in the world. We are thrilled that an in-app leader like Flipboard has selected Rubicon Project, with our leading mobile marketplace and Guaranteed Orders technology, as its first automation partner to make its more than 90 million monthly readers accessible to programmatic buyers globally," said Gregory R. Raifman, President of Rubicon Project.
Source: Flipboard