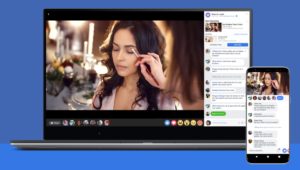 Facebook is launching a video experience to all that enables groups to watch live or recorded videos together in the same place at the same time – a feature it began testing back in January.
Watch Party enables group admins and moderators to select any live or recorded public video to share with group members. Members can then comment and react in real-time to the video.
"We've been encouraged by feedback from groups using Watch Party as we've been testing and rolling out," said Erin Connolly, product manager at Facebook, in a blog post. "We've heard from group leaders that they're excited to use Watch Party for things like: hosting Q&As around particular hobbies such as cooking or crafting, sharing behind the scenes details of a video, swapping tips and tricks for things like home improvement, decorating, or makeup tutorials with members in real time, learning new things like a workout technique or musical skills, and inviting special guests to join their Watch Party."
In addition to launching Watch Party globally, Facebook has begun testing the ability for people to start Watch Parties with friends outside of groups, and is looking to begin testing the same with Pages in the future.
Moreover, Facebook has added co-hosting to Watch Parties, enabling hosts to designate others who can add videos and keep parties going, and crowdsourcing, enabling anybody in a group to suggest videos for the host to add to a party.
Source: Mobile Marketing Magazine