ESPN Brazil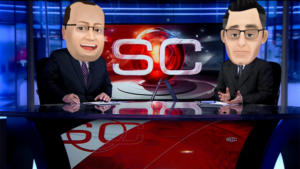 partnered with electronics giant Samsung to turn the hosts of "SportsCenter" into cartoon versions of themselves to promote the animoji features of the Galaxy S9 and S9+ smartphones, according to a press release.
Faces of ESPN anchors Paulo Soares and Antero Greco were transformed into emojis for four episodes of the show that will air through June. The broadcast generated more social media buzz than the NBA playoffs and the FIFA World Cup, a spokesperson told Adweek.
The activation, developed by agency Leo Burnett Tailor Made, is part of a larger campaign called "The Camera: Reimagined." Loredana Sarcinella, senior director of marketing for the division of mobile devices at Samsung Brazil, said the campaign showed how the My Emoji feature gives people another way to express themselves by letting them take a selfie and create a 3D avatar of themselves to share with friends on social media.
Augmented reality continues to transform the way marketers are connecting with audiences through fun features. ESPN's emoji broadcast offers another way to build on the public recognition of the sports show and reach younger audiences who are generally cutting back on other media like TV in favor of mobile content. The broadcast ultimately aims to boost buzz around SportsCenter and offer an entertaining element to Samsung's marketing strategy.
Apple popularized animated emojis with last year's release of the iPhone X, as the company sought to promote facial-scanning features that can be used to unlock the phone and make quick purchases without having to enter a password. While Apple's animojis were confined to cartoon animals based on emoji characters, Samsung added augmented reality (AR) emojis to create cartoon-like images of a Galaxy user's face to share in messages and across social media.
Samsung is the world's No. 1 maker of smartphones, having shipped 317.3 million devices last year. With the introduction of the Galaxy S9 and S9+ in February, the South Korea electronics giant added stereo speakers and tools such as facial recognition, photo language translation and super slow-motion video. Last week, Samsung teamed with ESPN's corporate sibling Disney-Pixar to add "Incredibles" animojis to the company's smartphones and ramp up excitement ahead of the movie's June 15 premiere.
Brazil's smartphone market rebounded in 2017 from two years of declines as the country went through a deep recession, and appears poised for additional growth this year. Smartphone shipments increased a healthy 9.7% to 47.7 million units in 2017, only 6.8 million less than in 2014, the previous best year of sales, according to the International Data Corporation.
Source: Mobile Marketer