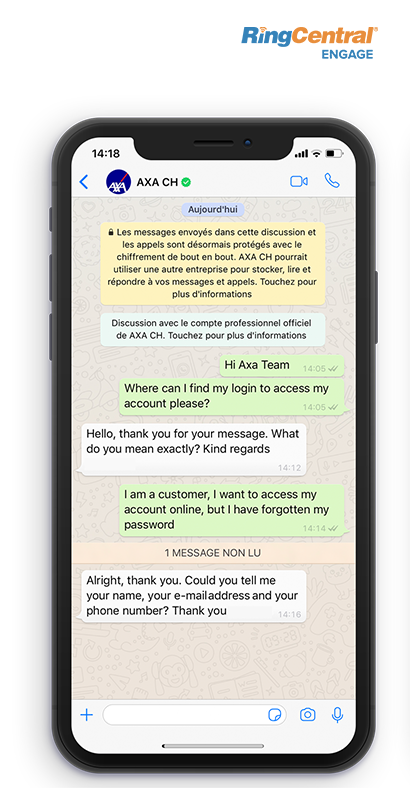 Dimelo, a RingCentral Company, the leading cloud-based digital customer engagement platform, announces its integration with the WhatsApp Business solution that allows businesses to interact with customers in a fast and simple way directly through WhatsApp.
With over five billion people actively using messaging apps every month, it's evident that today's customers want to connect with businesses in the same way they chat with friends and family, using  easy and hassle-free chat messaging services. The integration provides customers with flexibility and a more personalised experience, as asynchronous messaging allows agents to fit around customers' needs and doesn't prolong customer waiting times.
By relying on the RingCentral Engage omni-digital platform, businesses are able to let the 1.5 billion WhatsApp users contact them, providing even more valuable and seamless customer experiences.
Stéphane Lee, Dimelo's Managing Director and co-founder, commented: "Messaging is the future of customer care. With this new integration, Dimelo enables its clients to  engage with their customers in a fast and effective way. Customers directly chatting with a business are able to enjoy the same experience as when they talk to their peers. At the same time, companies are able to manage all their digital conversations through a single platform. Messaging tools like the WhatsApp Business solution help companies to improve, personalise and speed up their customers interactions."
With the WhatsApp Business solution, users can opt-in to start a conversation with businesses who then have 24 hours to reply. If a company is late in replying to its customers then they may be charged as a way of encouraging effective customer care.
Dimelo clients who benefit from implementing the WhatsApp Business solution include: cDiscount (FR – Retail), Crédit Mutuel – Arkea (FR – Insurance); AXA (CH/FR – Insurance); AllSecur (NL – Insurance) and LCL (FR – Banks) and multiple enterprises in various industries in EMEA. Dimelo is also providing its clients with support on best practices for customer care.
Source: RingCentral Company