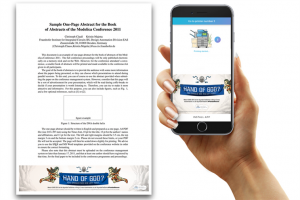 A new martech start-up, Printt, has developed an app and a printer system that provides free printing services for university students in exchange for watching ads.
Students can either watch an in-app video ad while they're waiting for their job to print, or have small banner ads printed on the bottom of every page.
The company was co-founded in 2016 by fresh Cass Business School graduate Ruslan Khazarchiev and a few of his friends. The start-up has been going through a test phase under the name AIWIP and has recently received an injection of angel funding which has provided the capital it needs to launch officially this September under the name Printt.
"Ruslan and a few guys were talking while in university about how they could make printing more free and convenient," Val Alsop, head of marketing at Printt, said. "The advertising model benefits both students and brands.
Printt has run trial campaigns with Deliveroo, Diageo, Endsleigh, Toms and Co-op.
Endsleigh's campaign had a click-through-rate of 24% and a conversion rate of 87% which led its marketers to buy up the rest of Printt's inventory for the term.
Mileage does vary, however, depending on the format advertisers choose and of course, the appeal of the ad. Diageo funded more than 59,000 pages and had a CTR of 8.6% while Deliveroo sponsored 122,736 branded pages and received a 4% CTR rate.
"We worked with Printt to extend the reach for the recent 'Stay yourself' responsible drinking campaign for Diageo, which was targeting students," said Chris Arnold, creative partner of Creative Orchestra. "The results were better than digital and more accountable. It's probably one of the most interesting new media channels for brands to reach the student population. A simple idea that blends the benefits of old and new techniques."
How does it work?
The technology powering Printt involves two main components, the app and the printer. For the printer-end of things, Printt has been working with Sharp and is in talks with others.
The app can be tested out under the name AIWIP but will be rebranded to Printt in September in time for the start of the academic year.
To get free printing, students have to download the app, log-in via Facebook and be within five metres of a Printt-enabled printer. The student then turns on Bluetooth, uploads a document and hits print. While they are printing, a video ad will show. The app also has AR integration.
So far, from trial runs, no one has had any complaint about the small banner ads printed in the footer of pages. "Everyone's quite happy to support this as it helps students out with their education," Alsop said. "It's actually become a new norm and people are quite comfortable with it."
The printers are being rolled out to more than 70 universities in the UK and by this September, more than 500 printers will work with Printt. The company estimates that after its launch more than a million branded pages a month will be printed with their system.
"We're starting out in the student space, but we can see this going anywhere you see a printer. Hotels, cafes, and serviced offices – wherever a printer is, Printt could run," Alsop said. "We're taking on that challenge and scaling it up."
Source: Campaign Live