We'd like to introduce you to our newest team member. #LegalAlexa
Download the skill today.https://t.co/IS6AQ1X2eg #Insurtech #LegalTech #Alexa pic.twitter.com/SStU98nA24

— DAS UK Group (@DASLegalUK) January 25, 2018
DAS UK Group has become the world's first legal expenses insurer to launch an innovative new Alexa skill for the Amazon Echo.
DAS customers and the general public will be able to ask Alexa, Amazon's virtual personal assistant, a variety of questions regarding legal expenses insurance and a range of common legal issues such as disputes with neighbours, employment tribunals and redundancy.
The new DAS Alexa skill will provide a question and answer structure that will be regularly updated throughout the year with new additional content based on popular legal themes and emerging trends such as cyber insurance. The technology will be available to anyone who has an Amazon Echo and will be free to download from the Amazon store.
DAS will also be looking to work with its strategic business partners and brokers to create bespoke white-labelled versions of the Alexa skill, enabling partners to promote their own proposition to their customers.
The launch of the Alexa skill is also part of a wider programme of innovation that has been developed by DAS as a continuation of its award-winning 2017 Customer Understanding Project which analysed the trends and behaviours of thousands of brokers and consumers.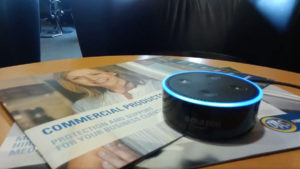 "We have undertaken a great deal of work to understand our customers' needs and the launch of the Alexa skill is a direct result of that. Amazon's Echo products were highly popular gifts over the Christmas period and the Alexa app was actually the most downloaded app for iPhones and Androids on Christmas Day. As more and more people rely on a virtual assistant to help with their daily lives, we wanted to take this important step to help improve people's understanding of legal expenses insurance and the benefits it offers," said James Henderson, Managing Director Insurance UK & Ireland, DAS UK Group.
"The legal expenses insurance industry needs to work much harder to help brokers and consumers understand the value of its products. Therefore it is vital that we are at the forefront of technical innovations that will digitise our business and provide us with opportunities to reach potentially vast new audiences. As a company we have begun a process of constant innovation and we have a number of other exciting developments planned for the coming year."
Kevin Neal, Head of Strategy & Innovation, DAS UK Group, said: "We're always looking for innovative solutions that benefit our business partners and their customers. Alexa is our first foray into the world of smart voice assistants, and it will be interesting to see how customers use this tool to help understand their cover and how it might be of use to them. We'll be developing further content as we learn more about how customers interact with Alexa and the type of information they're looking for. In particular, we'll be educating both brokers and consumers about the emerging cyber insurance market which is set to be a major area for growth in 2018."
Source: DAS UK Group