American shoe company Converse, have teamed with creative agency AKQA, to launch their new campaign. 'Forever Chuck. For Every You' aims to position Chucks for a new generation of teenagers, showing them that iconic Chuck Taylors are the perfect pair for whoever and whatever they want to be.
"Whoever you are, however you identify, there's a Chuck for every you. Unlike previous generations, today's youth aren't looking for perfect. They're not interested in sticking to one identity or style, they have confidence in uncertainty and change," said AKQA in their release.
The campaign, which breaks on November 13 on the brand's various social channels, features celebrities such as Sabrina Carpenter, Taylor Hill, Cole Sprouse, Alton Mason, Rowan Blanchard, Selah Marley and Alisha Boe.
AKQA worked on the campaign concept and ongoing production and execution, and partnered with Jen Brill Studios for visual look and feel.

Credits:
Client: Converse
Agency: AKQA New York
International Design Director: Carlos Matias
Creative Director: Philipp Dietz
Senior Copywriter: Clare Anderson
Copywriter: Caio Muratore, DJ Davids
Art Director: Felipe Yamaoka, Andrea Souza, Hera Yeung
Senior Designer: Carlo Clerici
Senior Motion Designer: Cody Rubino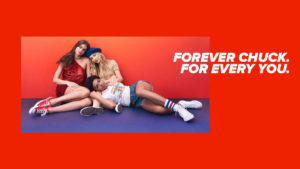 Senior Account Director: Stacey McLean
Associate Strategy Director: Dan Ansell
Strategy Lead: Eric Chow
Associate Strategist: Kim Uong
Senior Project Manager: Christine Barnowsky
Producer: Ilaria Conte
Visual Production: Jen Brill Studio
Edit: Picture Farm
VFX & Color: MPC
Sound & Mix: Heard City
Source: AKQA