Want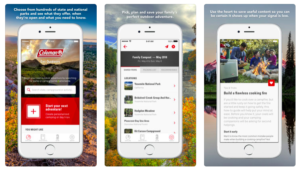 to find stunning campsites, delicious recipes, and expert gear recommendations from camping pros with more than 100 years of experience? Coleman, an international leader of durable outdoor recreation products, launched its first mobile app, "Coleman – Get Outdoors", which is now available for iPhone and Android users in the US. The Coleman – Get Outdoors app is free and makes planning a trip and going camping easier, by aggregating everything you need into one place.
The Coleman – Get Outdoors app encourages exploration by allowing users to identify new camping destinations, and a partnership with Recreation.gov delivers users access to more than 25,000 campgrounds and parks directly from the app. Designed to build confidence about planning a camping trip, the app features educational articles and videos on everything from how to set up a tent and meal prep, to cooking with a camp fire. The Coleman – Get Outdoors app offers packing lists so you can pack with confidence knowing you have everything you need for a camping excursion.
"Spending time with family and friends outdoors creates lasting memories, and we wanted to build a one-stop tool that helps take the stress out of planning a camping trip and simplifies the process," said Dave Lew, vice president, Brand Development of Coleman. "One of the reasons we partnered with Recreation.gov was to inspire people to get outside, and now with a simple search, campers of all experience levels can find any outdoor adventure nearby."
The Coleman – Get Outdoors app is available at the Google Play and Apple App store.
Source: Newell Brands