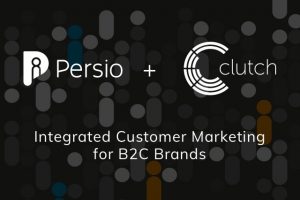 Clutch, a customer management and marketing analytics company, has acquired intelligent mobile promotions platform Persio in a deal that will add powerful new mobile marketing capabilities to the Clutch platform. The transaction puts Clutch in a position to capture a bigger share of the $32 billion marketing technology industry, just as brands are increasingly looking to automate mobile solutions to deliver shipping notices, rewards, coupons, brand messages, and more. At the same time, their marketing departments need a technology stack that can do the work of several vendors hired to solve discrete problems.
Clutch plans to make the new mobile functionality available to clients in the first quarter of 2017. The transaction closed in December. Persio, founded in 2012, has led hundreds of campaigns for retailers with mobile marketing techniques like mobile scratch-and-win offers, image and video text messages, and promotions for mobile apps. More than 10 million subscribers receive this type of content from Persio clients, who typically send 40 million messages per month from the platform.
Ned Moore will remain Clutch's CEO. Nick Doulas, co-founder of Persio, will be staying on as Head of Product. The combined company, which will retain the Clutch name, will employ a total of 75 in the Philadelphia suburbs and in Persio's existing offices in Chicago.
In addition to acquiring Persio, Clutch secured a $5.25 million round of funding and added a new seat on its board of directors. Larry Stone will take that seat, bringing more than 27 years of executive experience to Clutch. He is a veteran of the payment processing industry where he developed deep expertise in managing companies and accelerating their growth. He currently serves on the board of directors at JetPay and acted as principal of Mercury Payment Systems, where he successfully shepherded the firm to its 2014 sale to Vantiv.
Source: Clutch