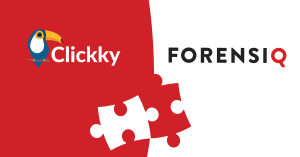 Clickky, the mobile monetization and user acquisition platform, has announced its partnership with Forensiq, a leading anti-fraud system. Clickky explains that the main goal of the collaboration is to take full responsibility over the traffic quality control, reducing the amount of fraud close to nothing.
The war with fraud is always a great concern amongst mobile marketers and Clickky is working to resolve this by implementing changes to the fraud fighting process, so that its customers will be able to benefit from an additional layer of protection against bot traffic.
​Clickky works with thousands of mobile publishers on a daily basis, connecting these to the platform each day. The platform now monitors the quality of the traffic and collects feedback from advertisers. Forensiq has enabled Clickky to reduce the time spent managing fraudulent traffic identification and improved the processes to prevent fraud.

"We believe that ensuring the traffic quality on our platform is above all a responsibility of our company. Therefore, we were in search for an effective solution that could help us identify bot traffic in real-time. Now the partnership with Forensiq affects our approach to mobile publishers, allowing to prioritize work with high-quality partners," shares Vadim Rogovskiy, Clickky's founder and CEO.
"We are pleased to be working with Clickky to enable them to successfully monitor traffic partners, define bad traffic sources efficiently, and eventually exclude them," says Director of Sales, Forensiq EMEA, Scott Burford.
Source: Clickky