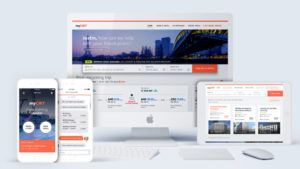 Global travel management company Carlson Wagonlit Travel has expanded its mobile air booking offering in 20 key markets around the world, giving travellers the option of booking their flights directly on the myCWT app.
The service was originally piloted in early 2017 and launched commercially in Q2 2018. Mobile air booking is now being rolled out to some of the largest markets around the world, including the UK, US, Germany, France, Canada, Switzerland, Austria, Italy, Australia, Poland, Brazil, Denmark, Hong Kong, Singapore, Spain, Ireland, Belgium, and the Netherlands.
A typical domestic booking can take as little as 60 seconds from start to finish. Early analysis shows that clients with air booking capability have seen a 30 per cent shift from offline to online, saving on fees. CWT's mobile air booking supports global distribution system (GDS) and low-cost carrier content, as well as client rates and preferred airlines.
The air booking capability has a set of innovative features, including a "best time to book" indicator, which alerts travellers when prices are expected to increase, and recommends an optimal time to book.
A 24-hour search function gives travellers a complete list of options, including cheaper flights outside a specified window. This simplifies the booking experience for travellers, while again saving costs for their employers.
The app already features check-in functionality for most major airlines, as well as notifications for flight delays, cancellations, gate changes, and safety and security travel alerts. It also offers mobile hotel bookings for 850,000 hotels worldwide, calendar synching, traveller profile integration with loyalty programmes, and advanced sharing functionality. Since launching in 2013, more than 1.2m travellers have signed up for myCWT.
"Travellers can now do everything they need to do right on their smartphone," said Amir Kirshenboim, CWT's chief technology officer, digital. "The process is simple, fast and easy, and clients have full control over what their travellers can book, so travellers save time, and companies save money."
Source: Mobile Marketing Magazine