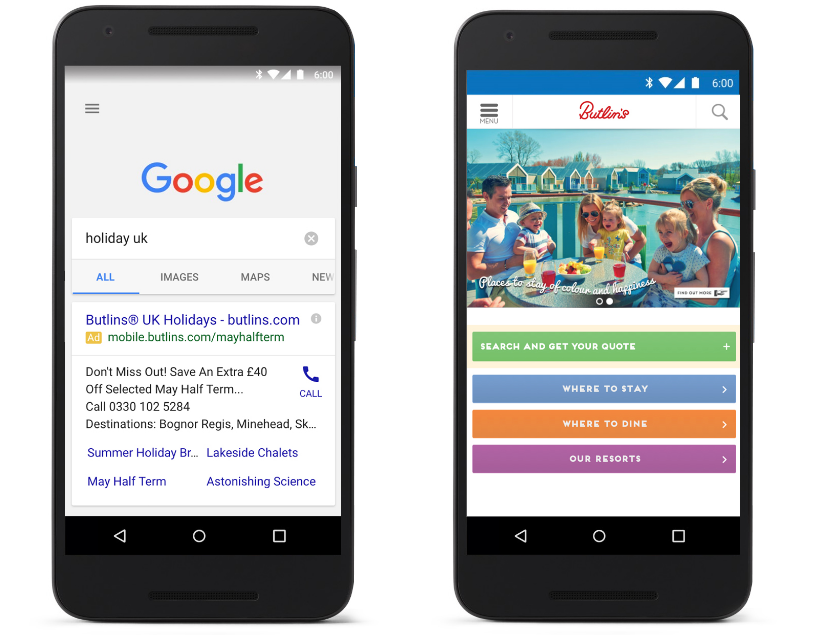 A mobile optimised ad creative leading through to Butlin's new mobile website
Knowing that their core audience of busy mums and dads lead increasingly mobile-centric lives, Butlin's relaunch their mobile website and promote it using a highly-targeted mobile-first search campaign.
 Butlin's have been providing families in the United Kingdom with affordable holidays since 1936, when Billy Butlin opened his first camp in Skegness. A mainstay of British vacations ever since, the brand has witnessed numerous trends and changes in the travel industry, from the arrival of foreign package holidays in the 1980s, to the web's more recent disruption of the travel agency model.
In 2015, responding to the growing importance of mobile devices, Butlin's made a serious investment in improving their mobile website, moving from a desktop-focused PDF-heavy site to a device-tailored design. "Butlin's knows that mums are the key decision maker for family holidays, and their time is precious," says Ian Parrish, Acquisition Manager at Butlin's. "With busy mums multi-tasking across devices, a mobile-first strategy isn't just a 'nice to have', it's critical." The new mobile site was launched in May 2015, and in the build up to Butlin's busiest booking period, it quickly became a core part of media agency MEC's search strategy for the brand.
Following the mobile website launch, investment in mobile search grew rapidly to ensure Butlin's had an increased share of voice during the moments that matter to users in-market for an affordable holiday. As well as targeting mobile users, MEC made use of several additional audience signals, upweighting bids against location and time of day, and using Remarketing Lists for Search Ads to target those who had already engaged with the brand by visiting Butlin's website or using their mobile app. Previous guests were addressed separately by using Butlin's 1st party customer data via Customer Match targeting in AdWords.
Ad creatives and ad extensions were optimised for mobile, with Call Extensions added during the contact centre's customer service hours to offer potential guests a personalised experience by speaking directly with a Butlin's team member. Across the board, all campaign creative sought to acknowledge the multi-tasking reality of busy mums and dads by utilising mobile-specific calls-to-action, while a mobile-driven change in search behaviour towards top-of-funnel terms caused a shift in MEC and Butlin's search strategy beyond brand keywords and towards generic and category terms.
The Results
With a mobile and audience first campaign driving visitors to a redesigned, mobile-friendly site, the return on Butlin's investment exceeded expectations. Traffic from mobile devices increased by 28% year-on-year and delivered a 31% decrease in Butlins' average cost-per-quote. The focus on mobile-specific creative paid off with a 46% click-through-rate uplift on generic keywords searched on mobile, while the ability of Customer Match targeting to speak directly to existing guests and potential guests resulted in a cost-per-quote 23% lower than for non-audience targeted generic search activity.
Overall, the improvement in mobile performance led to a 125% increase in online quotes and a 78% increase in total revenue, with mobile becoming Butlin's highest-revenue device channel. Summing up the success of their approach, Simon Casey, Performance Director at MEC observed: "By taking the time to really understand Butlin's audience behaviours in online, and how best to target them, we achieved some of the best results ever seen for Butlin's during the most important booking period of their business year."
---
Summary
Goals
Improving mobile performance
Increasing revenue
Approach
Launched their redeveloped mobile site ready for the busiest booking period of the year (Boxing Day – End of Jan)
Optimised their search ad campaigns to drive targeted traffic to mobile and significantly raised their mobile search budgets (+64%)
Readjusted bids to invest more on top funnel generics using RLSA, mobile, location and time of day up weight
Implemented Customer Match
Results
Mobile proved to be the highest revenue driving device type, with year-on-year performance improvements across all campaign areas in the account:
+78% increase in revenue
+28% YoY increase in traffic driven by mobile
+125% YoY increase in online booking quotes
~31% Decrease in Cost Per Quote
Source: Think With Google