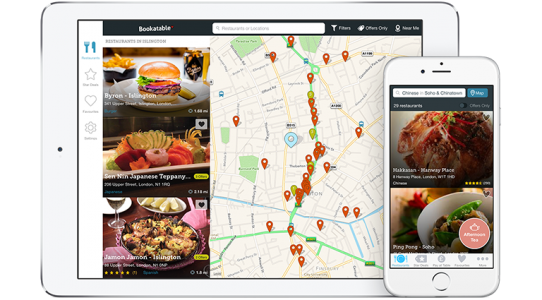 Digital restaurant pre booking service Bookatable has revealed a significant boost in sales to its restaurants that trialled the company's exclusive partnership with EasyPreOrders ahead of a wider rollout of the system scheduled for later in 2016.
The trial, which took place during November and December 2015, one of the busiest periods of the year for the dining industry, saw four of Bookatable's major chain restaurant partners test the technology to assess its impact on efficiency across 120 sites.
The online pre booking system aims to remove wasted time and unnecessary hassle from the group booking process, enabling restaurant teams and customers alike to arrange their booking via a clear and simple platform.
Across the four brands who trialled the system, TGI Fridays, Las Iguanas, Busaba Eathai and Belgos, the trial saw a 44 per cent increase in covers across the board when compared to the same period in 2014.
Las Iguanas saw particular successes with the digital platform, with the average venue reporting more guests, increased bookings and higher conversion rates. The EasyPreOrders system saw an 89 per cent adoption rate with bookings over eight covers at Las Iguanas Royal Festival Hall location, and on average pre-orders were submitted 19 days ahead of the booking, giving branches over two weeks to prepare for larger groups.
"We found the EasyPreOrders technology really easy to use and it was a great benefit to our business, particularly in the run up to the festive season when we experience a huge increase in group bookings which can be challenging to manage for the kitchens and front of house staff," said Gemma Holmes, brand communications coordinator for Las Iguanas.
"We're really pleased to see that the trial of EasyPreOrders has been an overwhelming success," said Joe Steele, CEO of Bookatable. "Our priority has always been on innovating our technology to ensure we offer the best possible system and service to our restaurant partners and beyond that, our diners."
Source: Mobile Marketing