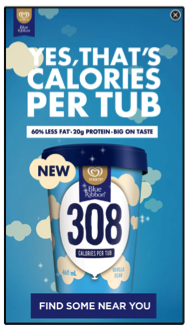 Blue Ribbon is planning to make Aussies' dessert dreams come true in 2019. Partnering with PHD Australia, the iconic Australian brand has introduced an exciting, new frozen dessert that features 308 to 372 calories per tub and actually tastes creamy. To launch it, the duo came up with a creative way to use geo-location targeting to justify the consumption of the new treat by calorie-counting consumers.
Indulging in ice cream sometimes comes with guilt and for some, the omnipresent calorie counter in consumers' minds can go off the hook. With the tension between calorie counting and treating resolved, PHD saw an opportunity to address this conundrum while positioning Blue Ribbon as the best choice in alleviating the struggle.
By identifying the closest locations to buy or sample the new range, Blue Ribbon has been able to serve geo-targeted ads that calculate the number of calories one can burn on the walk to the closest location. By the time they've walked there and back, burning 60 calories in the process, they can justify three scoops of the new dessert.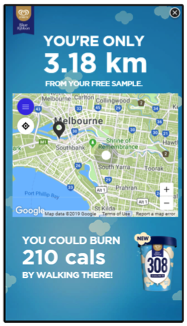 Additionally, in partnership with Fitness First and Mango PR, Blue Ribbon will be offering its consumers balanced workout classes across the country, allowing them to work off more calories than those contained in a tub of the new ice cream.
Fitness First members have been invited to one-hour classes at select locations across the country, involving high-energy aerobics and step moves inspired by exercise championships from the 80s and 90s. Upon completion of a class, participants can legitimately say #TREATYOSELF as they receive a free tub of the new Blue Ribbon range, along with a goodie bag.

Melanie Chen, Unilever said: "We know that Aussies are looking to adopt healthier lifestyles but don't want to compromise on taste, especially when it comes to treats and dessert. With our new range of tubs that tell you how many calories are in the entire tub, we know this will attract the attention of health enthusiasts, and so there was a great fit to partner with Fitness First and combine a fun workout with our products."

Kathryn Furnari, group business director, PHD added: "This campaign is really about having some fun with the notion of the indulgence and fitness! By explicitly showing people through each channel that they are able treat themselves and not feel bad about it, with an idea that makes perfect sense for our target audience. With exercise and then ice cream, fewer calories have never tasted so good."
Source: Campaign Brief