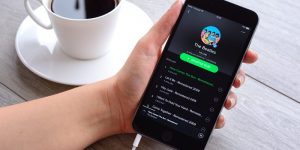 Biondo Creative is offering a new service which allows businesses to advertise on Spotify.
This new digital advertising service gives local business owners a chance to target Spotify's more than 140 million active users by playlist, genre, gender, age, country, region, state or DMA at an affordable price.
More consumers are using mobile devices and according to comScore, most of the time spent on our mobile phones are dominated by social networking, entertainment and gaming.
Business owners will work with Biondo Creative's marketing team to develop their message, visual banners and audio ads and appropriate targeting options.
"Advertising on Spotify's Audio platform gives businesses that are leveraging other digital advertising like Google AdWords and Bing Ads another marketing channel to leverage. With more consumers shopping online, using their mobile phones and listening to digital audio, especially between Black Friday and the holidays it just makes sense to be here," said Founder / CEO of Biondo Creative, Anthony J. Biondo Jr.
Source: Biondo Creative