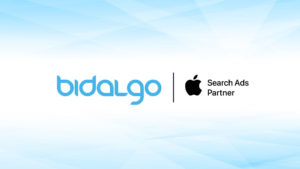 Bidalgo recently announced that it has been named as an Apple Search Ads Partner as part of the program recently announced by Apple Search Ads. Bidalgo is among a select group of partners that meet Apple Search Ads' goal of identifying leading companies that provide its customers with the highest level of support and expertise to help them ensure success with Apple Search Ads.
Bidalgo is named an Apple Search Ads Partner one year after it successfully started running Apple Search Ads, having been one of the very first marketing platforms to integrate the channel into its offering. This Apple Search Ads Partner recognition serves as a welcome addition to Bidalgo's other partnerships including Facebook, Instagram, Google, Snapchat and Pinterest.
Recognising Apple Search Ads as a critical part of any mobile marketing strategy, Bidalgo recently released its Ultimate Guide for Apple Search Ads to help app advertisers master the most important aspects and gain practical campaign tips for best possible performance.
World leading gaming company Huuuge Games are one of many apps using Bidalgo to get the best possible results from Apple Search Ads.
"Serving as the primary gateway to iOS search, this channel has enabled us to reach higher intent users," said Itay Milstein, Head of Search at Huuuge Games. "Running Apple Search Ads on the Bidalgo platform we have seen a substantial increase in our key metrics for success, acquiring 6X more payers."
Another company using Bidalgo's platform for Apple Search Ads as part of a wider multi channel strategy is Booksy, a leading scheduling app for appointment-based businesses.
"Apple Search is one of the pillars of our multi-channel UA strategy. Running ads on this platform gives us better visibility in the App Store, making sure that people who look for our app don't get distracted by our competitors," said Dawid Kowalski, Senior Performance Specialist at Booksy. "What's more, running Apple Search Ads through the Bidalgo platform enables us to track any in-depth events that we need and compare results across channels."
"We are excited to expand our relationship with Apple Search Ads as a partner as we continue to deliver one unified solution for app marketers via a single AI driven platform," said Peli Beeri, CEO at Bidalgo. "The combination of Apple Search Ads' unique inventory, strong optimisation and keyword discovery, together with Bidalgo's industry leading ad automation platform gives app advertisers unique and powerful ways to scale their apps."
Source: Bidalgo