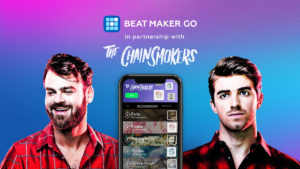 Gismart, the leading global music app maker with 300 million downloads, is thrilled to announce its first major artists partnership with global EDM phenomenon The Chainsmokers. The new collaboration sees the globally renowned DJ duo launch over twenty brand new 'The Chainsmokers sound packs' for the chart-topping music app Beat Maker Go.
Beat Maker Go has been downloaded over 20 million times since launching in 2017, making it the world's number one beat making app by revenue and download metrics. The new strategic partnership sees the release of an exclusive sound pack library based on The Chainsmokers greatest hits. Beat Maker Go gamers will be able to create thumping beats and play along to stellar hits such as Closer, Paris, Don't Let Me Down, Roses and their recent single This Feeling.
Gismart has transformed Beat Maker Go for the new partnership, whilst still retaining the app's much loved core features for millions of its global users. The app has been rebranded with The Chainsmokers visuals embedded extensively into the mobile game experience. Beat Maker Go will play host to numerous exciting in-app events, providing both highly passionate fan bases opportunities to win The Chainsmokers concert tickets and exclusive merchandise.
Randy Shefer, Vice President, Creative Marketing – Interactive Media, at Sony/ATV Music Publishing, commented: "Sony/ATV is always looking for ways to bring value and exposure for our songwriters and artists by identifying companies successfully innovating in the consumer digital space. Working with Gismart to bring The Chainsmokers music to the top selling Beat Maker Go app as the first artist branded content is a great example of how Sony/ATV finds and cultivates these exciting new partnerships. We look forward to working with Gismart and continuing to explore ways to bring our songwriters and artists music to consumers in engaging and exciting new ways."
Lana Meisak, Marketing & Business Development Manager at Gismart, commented: "This is the first major artist partnership for Beat Maker Go, and we couldn't imagine a better fit than The Chainsmokers. We're truly excited to have this talented duo onboard, offering fans a dynamic selection of hit music content such as Closer, Paris, Don't Let Me Down, Roses, and their latest single This Feeling. Our collaboration with The Chainsmokers signifies the start of a bold new marketing strategy across a number of Gismart's leading music apps and games. We hope to inspire our audiences to express themselves musically, and provide an opportunity for fans to connect with their favourite songs in innovative ways."
Beat Maker Go features high quality sound packs and games based on a wide range of EDM genres. It sports sophisticated real-time audio effects, which allows every track to be unique. Beat Maker Go for iOS was launched in November 2017, with the Android version debuting in March 2018. The app has regularly featured on both Apple App Store and Google Play, and it regularly tops the charts for most downloaded music apps in a number of countries including the US, UK, France, China, Russia and other markets.
Source: Gismart