Arsenal has become the first Premier League club to launch an app aimed specifically at young supporters as it looks to boost engagement and loyalty and give kids another reason to support the club.
The app is part of a growing focus at the club on its so-called 'Junior Gunners' – those aged between 0 and 16 who will be the "fans of the future." Arsenal already has more than 36,500 Junior Gunners members, the most of any Premier League club, and is looking to attract more to the club through a focus on digital engagement.
"Our young fans are the fans of the future. Football supporters tend to choose their team at a very young age so we hope by launching this app that when kids come to choose their team hopefully they will choose Arsenal," said Arsenal's youth product manager, Anne-Lise Johnsen.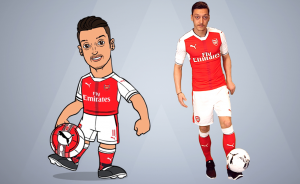 The app, created by digital agency Koko, allows users to create their own avatar, receive up-to-date content on upcoming fixtures, squad lists and results and play games. Those games include 'Pocket Player' – a tamagotchi-style game where players must train, feed and rest an Arsenal Player – as well as 'Squad Boss', which allows kids to manage their own six-a-side team throughout the season and compete with friends.
To keep the app safe, there is no chat functionality or in-app purchases. Much of the content is free, but to gain access to further features such as the games users will have to be either a Junior Gunner member or a digital subscriber.
The launch is part of Arsenal's wider plans to engage with its fan base more widely through digital. Much of the app's functionality mirrors that of the standard Arsenal app to ensure brand consistency. Johnsen said there are plans for more functionality and that the success of the app will be based on how often members use it, as well as its ability to drive new membership.
"We took inspiration from the main Arsenal app. This new app is part of a family of apps, it is not a separate tool. Part of Junior Gunners' engagement strategy is around experiential, events, competitions and videos so the key here was to offer all of that within the app," she explained.
"We hope the app will elevate the experience and engagement the club has with our fans of the future, not just here in North London, but globally."
Source: Marketing Week