Apple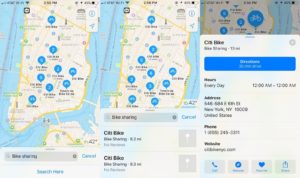 and Ito World have partnered to bring bike-sharing dock information to Apple Maps, TechCrunch reports.
Now, in a number of cities, users can just type "bike sharing" or the name of a bike-sharing service into the Apple Maps search bar and it will show you all of the nearby docks as well as the bike-sharing service's website and phone number.
Ito World's bike share data feed currently includes information for 179 cities in 36 countries.
Apple began working bike-sharing info into Maps last April, but the company's partnership with Ito World greatly expands the amount of available bike-sharing data. There are a few limitations though. Apple Maps can show you where bike-sharing docks are located but not how many bikes are available or how many docks are currently empty and it can't give you information on dockless bike-sharing services.
The new feature helps Apple Maps compete with Google Maps, which also lets users search for bike-sharing docks. Apple Maps' bike-sharing feature is available now.
Source: Engadget