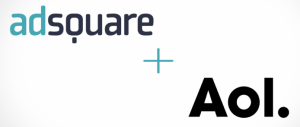 US mass media company AOL has entered into a global partnership with Adsquare, a mobile data exchange firm, to improve mobile audience mapping and targeting on its One platform.
The agreement will see Adsquare's mobile-first data – which covers 12 markets including the US, UK, Germany and France – built into AOL's One programmatic platform to bring 'holistic mobile audience mapping for publishers, and 'in-the-moment' mobile audience targeting for advertisers'.
"We are pleased to join forces with AOL on a global scale to make mobile advertising more relevant," said Tom Laband, Adsquare CEO. "Mobile is so much more than the most personal channel for targeting customers. It is also the most consistent identifier, and source of a broad set of data. Adsquare's audience management platform offers a single access to multiple data sources and dimensions to create powerful audience segments."
AOL recently formed a strategic alliance with O2's mobile marketing and commerce services provider, Weve, to help advertisers target and reach customers more effectively.
Alex Timbs, head of data and attribution at AOL International, said: "Our open philosophy means we can offer multiple data sets to help advertisers build powerful brands and publishers to grow revenues."
Source: Mobile Marketing Magazine