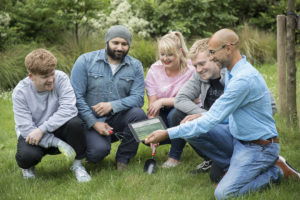 Leading digital marketing agency Adtrak has just completed a digital face-lift for a leading landscaping firm, complete with new website and the full suite of online marketing tools to bring it onto the cutting edge.
The Nottingham-based agency is a digital partner of the British Association of Landscaping Industries (BALI), and was called on to create a modern, responsive and informative online hub for John O'Conner, one of the country's most reputable landscaping contractors. The website is now a one-stop shop for clients and potential customers to view and access John O'Conner's services and a reflection of the company's continued investment in its digital footprint.
Matt O'Conner, John O'Conner's Managing Director and Vice Chairman of the BALI Board of Directors said, "Adtrak worked closely with us at initial project stage to fully understand our sector, our business and the services we provide. The team was able to translate the look and feel of our business into an exciting, slick and functional website we are all proud of."
Utilising the full suite of Adtrak's services, John O'Conner is now firmly on the digital map with sophisticated photography and video taking pride of place on the website and behind the scenes online marketing tools, including SEO and PPC working hard to drive people to the site.
Ben Shaw, an Account Director at Adtrak, heads up the BALI relationship and has managed the John O'Conner website and marketing project.
Speaking about the project, Ben said: "John O'Conner came to us in need of a complete website refresh. As a result, our expert team conducted a thorough audit of their existing website and spent time planning a comprehensive digital marketing strategy which meets their goals. By utilising a mobile-first approach, we created a website which performs well across all devices, including mobile phones and tablets. We have also introduced techniques to increase the overall speed of the site and improve security so it's in line with Google's most recent update. The new site now showcases the excellent work of John O'Conner, through case studies and customer testimonials. It will also provide the business with a platform for future growth, ensuring a website which will continue to develop around the company's future needs."
Adtrak became BALI's digital partner in October 2016. Since then, Adtrak has worked with a large number of BALI's landscaping, grounds maintenance, and supplier members, including M&M Timber, Outdoor Options, Oakview Landscapes, The Landscaping Consultants and Mobilane. Adtrak currently work with over 25 clients from within the landscaping sector and, on average, their landscaping clients achieve a 180% increase in sales leads following the implementation of Adtrak services.
Source: Adtrak